BALTIMORE, MD—The Maryland Department of the Environment on Wednesday urged public water systems, citizens and businesses in parts of the state to continue voluntary water use restrictions as a drought watch issued earlier this summer has been upgraded to a warning.
"Water conservation is a good practice year-round, but we are asking water systems to take extra precautions as dry conditions persist," said MDE Secretary Serena McIlwain. "Consumers can help by limiting the use and duration of sprinklers for lawns, taking short showers as opposed to baths, and not leaving the faucet running while brushing your teeth. These things sound simple, but it all adds up."
No mandatory water use restrictions have been issued by the state at this time. However, water systems may implement their own mandatory conservation measures. All of the following areas, except for regions served by Baltimore City or Washington Suburban Sanitary Commission public water systems, are under warning: Baltimore, Carroll, Cecil, Frederick, Harford, Howard, and Montgomery counties. A drought watch remains in place for Western Maryland, covering Allegany, Garrett, and Washington counties.
The drought warning is based on lower-than-normal stream flows and groundwater levels for this time of year. The state increases oversight of water supply conditions, encourages voluntary water conservation practices, and updates its drought status weekly while the warning is in effect.
While the state currently has enough water to meet the needs of residents and businesses, water conservation measures are encouraged to help avoid any future water shortages.
Water conservation tips for homeowners can be found online here.
Water conservation tips for businesses, such as restaurants, and commercial buildings, can be found online here.
Drought conditions can be monitored online here.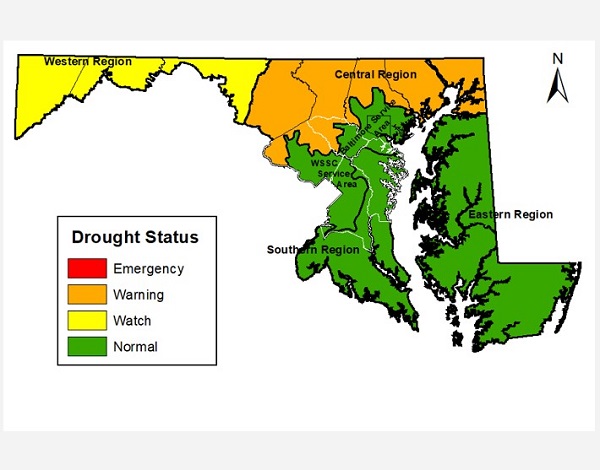 Photo via Pixabay