NOTTINGHAM, MD—The debate over a proposed new crematorium in White Marsh rages on.
Earlier this year, Evans Funeral Chapel announced plans to construct a crematorium at 11543 Philadelphia Road.  The White Marsh-Cowenton Community Association then created an online petition opposing the plan.
Residents have voiced concerns over the potential for toxic materials and smoke to be released into nearby neighborhoods.  A public hearing on the matter was held back in May.
On Tuesday, Senator J.B. Jennings and Delegates Ryan Nawrocki and Kathy Szeliga sent the following letter to Secretary Serena Coleman Mcllwain with the Maryland Department of the Environment:
Dear Secretary McIlwain,
Our offices have received multiple concerns from the White Marsh/Cowenton Community
Association, as well as several residents of the area, over Evans Funeral Chapel's proposed
crematorium located at 11543 Philadelphia Road, White Marsh, MD 21162.
A community petition stated that the proposed crematorium would be near a daycare, several
restaurants, and shops, and in close proximity to hundreds of homes. Many residents of the area
have voiced concerns over the possible physical and financial harm the incinerator crematorium
would cause if built in this area.
Can you please provide us with detailed information and statistics regarding the permitting
process, air quality testing and frequency, and potential health and physical implications?
Additionally, is there a limit on the number of cremations a crematorium incinerator can provide
within a certain time frame, as well as are there any known scientific studies that show what if
any, air quality implications may occur caused by extended incinerator usage?
Due to the urgency in this matter, we respectfully request that MDE take into consideration the
thoughts and concerns of the constituents who reside near this facility's new potential project and
provide us, and the community, with answers to the previously mentioned questions and concerns.
We welcome the opportunity to discuss this issue with you further.
The full letter can be viewed below.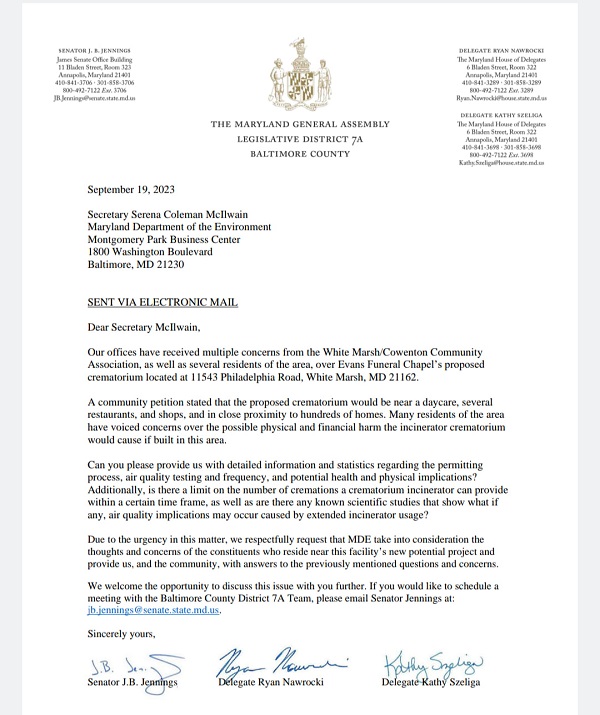 Photo via Pixabay