SYKESVILLE, MD—The Maryland State Police, in partnership with other State of Maryland agencies, will host a Career Expo, set to take place from 10 a.m. to 2 p.m. on Saturday, June 3, 2023 at the Maryland State Police Training Academy, located at 6852 4th Street in Sykesville.
The goal of this free event is to introduce those who are interested in a career with the State of Maryland to potential job opportunities. Numerous state agencies will be on-site to promote careers for various sworn law enforcement positions and civilian professional opportunities. State agencies to be in attendance include the Maryland State Police; the Office of the State Fire Marshal; the Maryland Department of Budget and Management; Maryland Natural Resources Police; and the Department of Public Safety and Correctional Services. Those interested in a potential career with any of these state agencies will be able to receive a tour of the training academies, experience hands-on activities like simulators and dispatching scenarios as well as gather employment information directly from representatives in law enforcement, public safety and government.
Interested individuals do not need to make a formal appointment to attend the Career Expo. Parking on-site is free and can be located on the campus site map. While there is no formal dress code, those who attend are recommended to wear business casual attire. Providing a resumé on the day of the Career Expo is not necessary, as the State of Maryland uses an online portal to track applications.
Weapons are not allowed on the campus, unless attendees are in a law enforcement uniform.
Additional information can be found in the flyer below.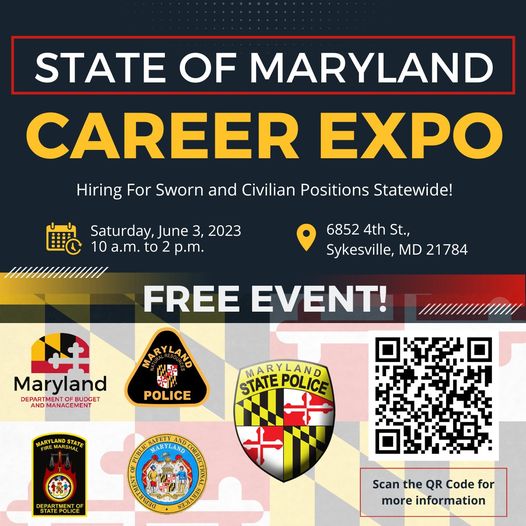 Photo via Pixabay