BALTIMORE, MD—For the second straight week, the nation's average price of gasoline has declined, falling 6.3 cents from a week ago to $3.58 per gallon this week according to GasBuddy data compiled from more than 11 million individual price reports covering over 150,000 gas stations across the country.
The national average is up 8.2 cents from a month ago but 59.6 cents per gallon lower than a year ago. The national average price of diesel has fallen 5.3 cents in the last week and stands at $4.07 per gallon, $1.18 lower than one year ago.
"After declining the prior week at a slow pace, the drop in the national average has gained momentum. Oil prices have come under additional selling pressure alongside wholesale gasoline prices, giving retailers room to pass on the lower prices," said Patrick De Haan, head of petroleum analysis at GasBuddy.
"Diesel prices have followed, falling to their lowest in over 13 months as demand remains weak due to concerns over the economy," De Haan added. "With refinery maintenance wrapping up, we should see supplies start to build in the weeks ahead, just in time for the summer driving season, potentially putting more downward pressure on prices. However, while a majority of states saw gas prices drop, some, particularly in the Northeast, have yet to join in thanks to being the last to make the switch to summer gasoline – but relief will be on the way soon in areas that have resisted the fall thus far."
The most common U.S. gas price encountered by motorists stood at $3.39 per gallon, down 10 cents from last week, followed by $3.49, $3.29, $3.59, and $3.19 rounding out the top five most common prices.  The median U.S. gas price is $3.45 per gallon, down 6 cents from last week and about 13 cents lower than the national average.  The top 10% of stations in the country average $4.80 per gallon, while the bottom 10% average $3.01 per gallon.  The states with the lowest average prices: Mississippi ($3.05), Texas ($3.14), and Louisiana ($3.15).  The states with the highest average prices: California ($4.82), Hawaii ($4.76), and Arizona ($4.72).
See previous gas price reports here
In the Baltimore metro area, the cheapest gas this week could be found at the following locations: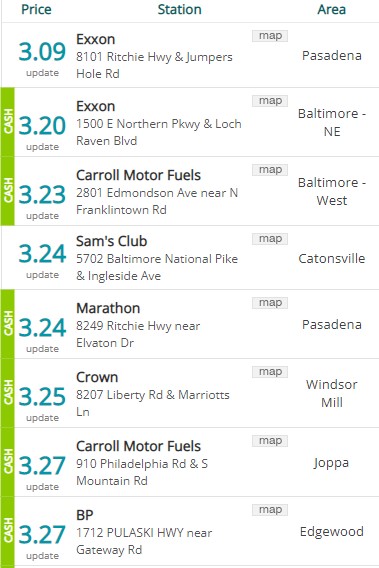 Photo via Pixabay