BALTIMORE, MD—A severe thunderstorm produced a tornado in Maryland on Saturday evening, the National Weather Service has confirmed.
The EF1 tornado touched down just east of Rising Sun in Cecil County at just before 6:45 p.m. on April 1, 2023.
The tornado touched down near the village of Calvert, just east of Chandler Road and its intersection with Telegraph Road, where three wooden power poles were snapped. The tornado continued to move east along Telegraph Road and caused uprooted and snapped trees near Rosebank United Methodist Church.
The tornado then moved to the southeast and resulted in extensive tree and minor structural damage in the vicinity of Calvert Regional Park, Cecil Arena, and Rising Sun High School. Over 100 trees were damaged in this area with numerous trees being uprooted and snapped.
At Calvert Regional Park, portable toilets were broken into several smalled parts and moved more than 300 yards into fields to the north of the storm's track.
The tornado then moved further east toward Dr. Miller Road where a small barn collapsed and was moved approximately 50 yards into a field as a result.
An EF1 tornado by definition has 86 to 110 mph winds.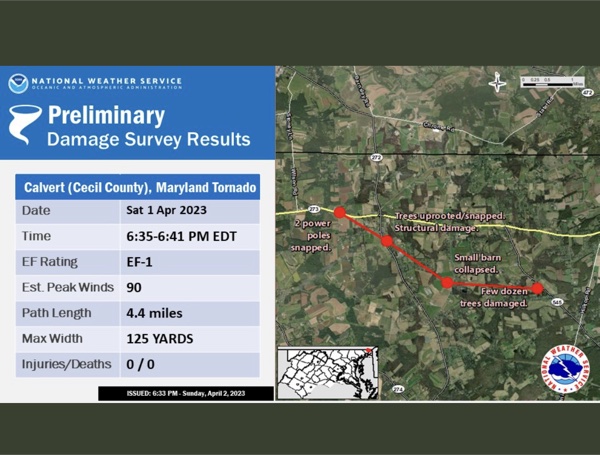 Featured Image: file photo