ANNAPOLIS, MD—Governor Wes Moore this week delivered remarks at the deployment ceremony for Maryland Army National Guard soldiers headed to serve in the Middle East.
Approximately 70 soldiers and seven CH-47F Chinook helicopters assigned to Bravo Company, 3rd Battalion, 126th Aviation Regiment will deploy to support Operation Inherent Resolve and Operation Spartan Shield. The deployment ceremony was held at the Aberdeen Proving Ground – South with nearly 200 family and friends in attendance.
"Today, we honor the hard work our soldiers have done and their determination to be ready to answer our nation's call," said Governor Moore on Monday. "As we honor our soldiers, we must not forget the courage and sacrifice of their family members. It is with their love and support that soldiers are able to carry out the missions they are given."
​The Bravo Company, 3rd Battalion, 126th Aviation Regiment soldiers and their equipment are critical during disasters, emergencies, and other situational response missions both at home and abroad. The soldiers have deployed multiple times to Afghanistan in support of Operation Enduring Freedom. They have also supported out-of-state domestic operations including Hurricane Florence in South Carolina, the Oakland Dam overflow and Hurricanes Isabella and Irene. In Maryland, during the Ellicott City flood in 2016, the unit brought generators that supported the pumping of water out of the historic downtown area.
"Bravo Company is a 'tip-of-the-spear' unit, and they've always succeeded in their missions," said U.S. Army Maj. Gen. Timothy Gowen, adjutant general of Maryland. "We are extremely proud of how these Citizens-Soldiers are always ready to serve their state and nation. Their sacrifice, as well as that of their families, will not be forgotten as we eagerly await their safe return home."
In his legislative agenda, Governor Moore proposed the Healthcare for Heroes Act. This legislation will allow members of the Maryland National Guard and their families, who are eligible for Tri-Care Reserve Select, to receive health and dental care free of cost. The bill establishes the Tri-Care Premium Reimbursement Program within the Maryland Military Department (DMIL). Guard members will submit their own and their families' premium payments to the program in order to be reimbursed for the full cost. The Healthcare for Heroes Act ensures our friends, family, and neighbors who have stepped forward to serve our state and nation don't have to make the difficult decision between healthcare premiums and other necessary expenses.​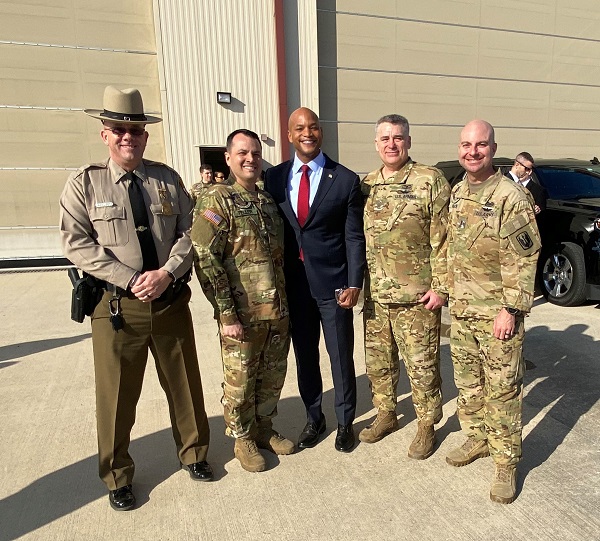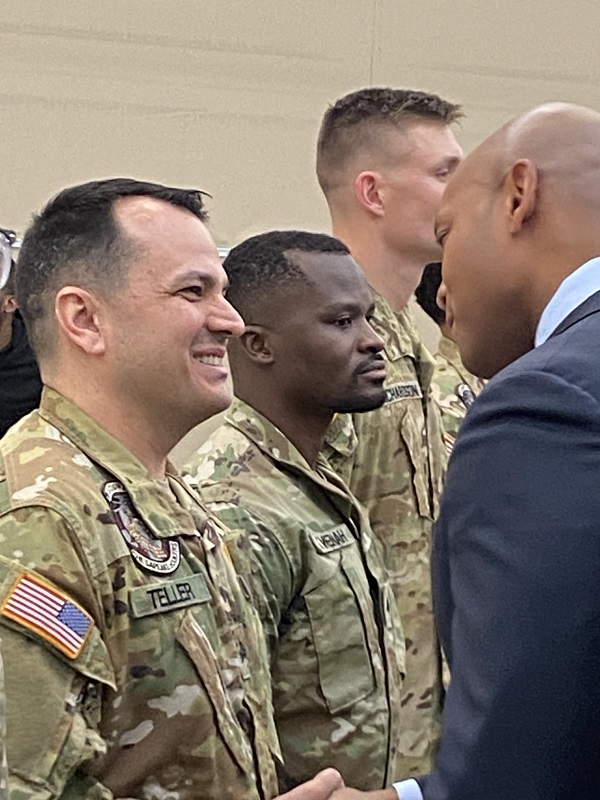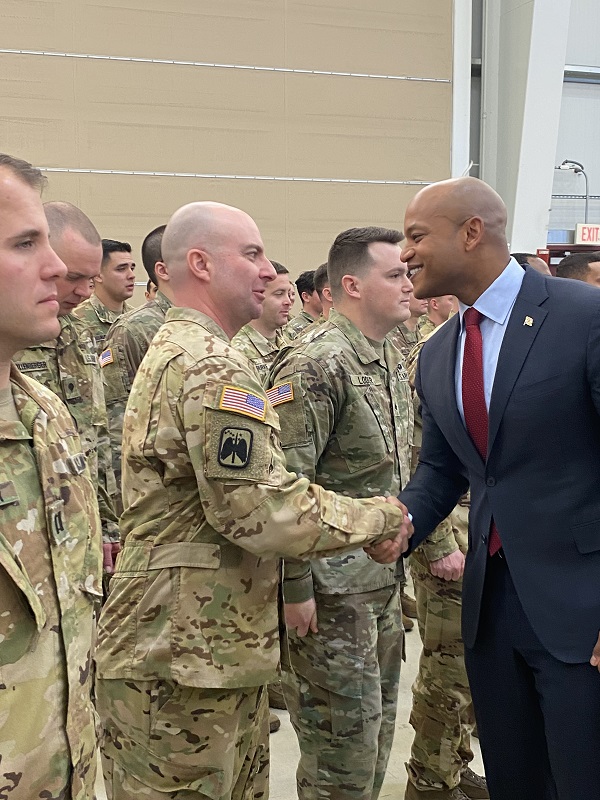 Photos via Governor Wes Moore and Maryland State Police