BALTIMORE, MD—Local leaders in Baltimore and around the state of Maryland are reacting to the beating death of Tyre Nichols in Tennessee.
Bodycam footage released on Friday appears to show 29-year-old Tyre Nichols being beaten by multiple Memphis police officers during a traffic stop on January 7th.
Fox News reports that the Shelby County Sheriff's Office has placed two deputies on administrative leave following the release of the bodycam footage, which shows officers severely beat Nichols. He later died of his injuries.
Shelby County Sheriff Floyd Bonner, Jr. said he decided to launch an internal investigation after watching the video.
"Having watched the videotape for the first time tonight, I have concerns about two deputies who appeared on the scene following the physical confrontation between police and Tyre Nichols," Bonner said on Twitter.
He added: "I have launched an internal investigation into the conduct of these deputies to determine what occurred and if any policies were violated. Both of these deputies have been relieved of duty pending the outcome of this administrative investigation."
(story continues below)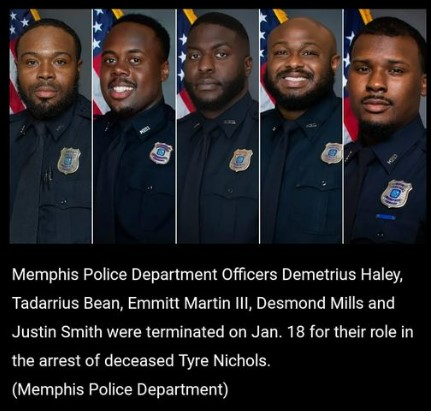 Local elected officials in Maryland are responding to the incident.
Governor Wes Moore has issued the following statement:
My statement on the killing of Tyre Nichols: pic.twitter.com/XKXw6icpVz

— Governor Wes Moore (@GovWesMoore) January 28, 2023
Baltimore County Executive Johnny Olszewski has issued the following statement:
My statement on the killing of Tyre Nichols: pic.twitter.com/yuG5GM2k9D

— County Executive Johnny Olszewski (@BaltCoExec) January 28, 2023
State's Attorney Ivan J. Bates, Baltimore Mayor Brandon M. Scott, Baltimore Police Commissioner Michael S. Harrison, and Mayor's Office of Neighborhood Safety and Engagement Director Shantay Jackson released the following statement:
"The death of Tyre Nichols is a stark reminder of the brutality Black people continue to face daily in this country and how much work remains for us to value Black American lives. Our hearts go out to his family and loved ones as they mourn the loss of their son and demand justice for his untimely death. His family should not have to endure the heartache of losing a loved one at the hands of those sworn to protect and serve their community.
"We want to applaud the swift action taken by the Shelby County District Attorney to charge all five officers who participated in the killing of Mr. Nichols. Justice demands accountability for this vile act and accountability for all instances of police misconduct across the country.
"For those who may choose to grieve or begin their healing processes by exercising their 1st Amendment right to protest, we encourage you to honor the wishes of the Nichols family and do so without the further perpetuation of violence and trauma. With this in mind, we will be partnering to ensure that a safe environment exists for everyone. This moment should also serve as a reminder of the immediate need for nationwide police reform policy and practices to enshrine constitutional and ethical law enforcement.
"The City of Baltimore, the Office of the State's Attorney, the Mayor's Office of Neighborhood Safety and Engagement, and the Baltimore Police Department stand against all forms of police misconduct and violence in our communities. Together we can do better. We must do better. We will do better."
Maryland Attorney General Anthony G. Brown has released the following statement:
"I extend my deepest condolences to the family of Tyre Nichols, and to the community in Memphis and beyond that knew him and mourns his passing. I also grieve for our American community, which still has so far to travel to reach the goal of justice for all.
"These videos, and the horrors that they portray, have been felt here in Maryland and across the nation. Protesting injustice is a proud American tradition, and I stand with you in peaceful opposition to the violence and degradation portrayed in these videos.
"As the Attorney General, I promise to uphold the ideals that all Marylanders share – that justice should not depend on race or wealth or geography, and that no person or profession is exempt from the rule of law. I promise to be present with our Maryland community while we reckon with injustice, and to listen and learn as we work together to ensure that the brutality that ended Mr. Nichols' life will never happen again."