NOTTINGHAM, MD—This fall, THE AVENUE at White Marsh will be celebrating its 25th anniversary.
Established in 1997, THE AVENUE was designed to provide a main street feel, with buildings resembling a train station, city hall, a fire station, and small shops. In a 1997 article printed in The Baltimore Sun, Doug Dollenberg, president and chief executive of Nottingham Properties, Inc., was quoted as saying "We are trying to create a sense of community here."
Twenty-five years later, THE AVENUE at White Marsh remains a community destination for shopping, dining, and entertainment.
Officials say the shopping mecca will be incorporating "Celebrating 25 Years" into its holiday events and announcing a sculpture installation to mark the big occasion.
In addition, Facebook followers will have the opportunity to enter to win 4 packs of $25 gift cards from THE AVENUE's four original tenants. Officials will post a chance to win on the anniversary of each.
So, be sure to follow THE AVENUE at White Marsh on Facebook here, look out for posts, and be sure to comment in order to entered to win. One winner will be selected at random and announced on Facebook.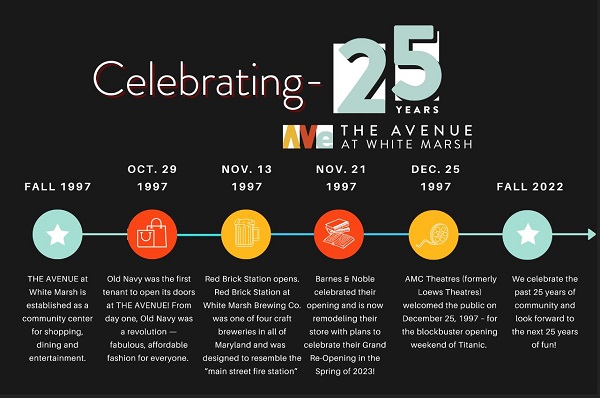 Facebook Comments