UPDATE: Photos and additional information from the grand opening ceremony can be viewed here.
Original story below…
——
CARNEY, MD—A new restaurant is coming to Carney.
Urban Crab Shack will celebrate its grand opening on Saturday, September 4th.  The restaurant opened its doors a few months ago in the Perring Plaza shopping center.
Boasting a complete seafood menu, the owners tout their "Seafood Boil" as their specialty.
"The seafood boil is remarkably delicious," says manager Joe Tan. The boil can be clams, crawfish, mussels, shrimp, oysters, scallops, lobsters, or several different types of crabs.
Urban Crab Shack also infuses a Cajun style that isn't seen at most local crab houses or seafood restaurants. The menu is dotted with crawfish, gumbo, catfish. One can grab one of several varieties of Po' Boys as well.
"There is a distinct flavor," said local resident John Marshall, "Urban Crab has an incredible variety of seafood."
"Our work with the Arc of Maryland is what we are most proud of," added Tan.
Per their website, the Arc is a large non-profit dedicated to the rights and quality of life for persons with intellectual and developmental disabilities. The organization operates efficiently across the entire state. Their geographical presence spans a remarkable 19 of 23 counties, in addition to Baltimore City. Urban Crab Shack provides resources, donations, and a spotlight on the positive achievements accomplished by the Arc.
The parties are continuous at Urban Crab Shack. There is an event every night, and they appear to appeal to people with a vast array of interests. From trivia to karaoke to an energetic ladies night, there appears to be a wave of interest in this Baltimore County staple.
Along with a restaurant in Brandywine, this will be Urban Crab Shack's second location in Maryland.
Additional information is available at www.urbancrabshack.com and in the flyer below.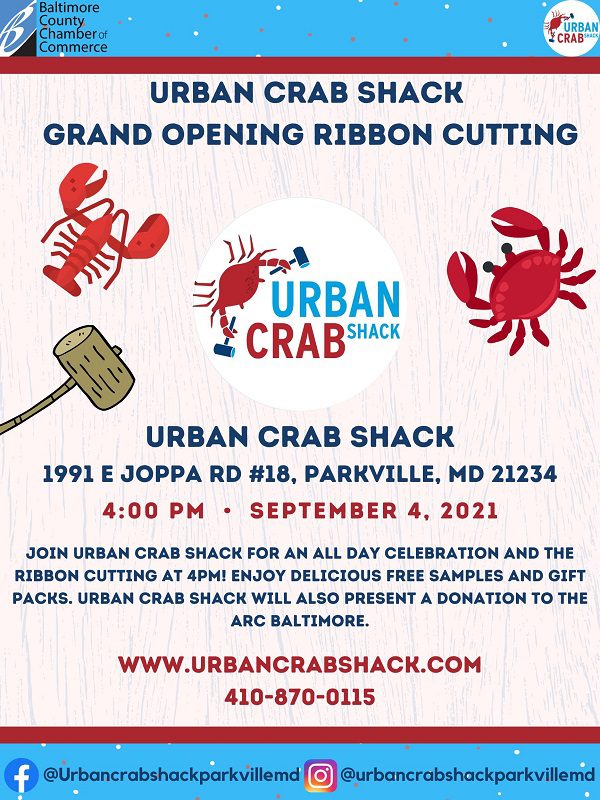 Facebook Comments