NOTTINGHAM, MD—The National Weather Service has issued a Severe Thunderstorm Warning for the Nottingham area.
The warning will remain in effect until 7:15 p.m. EDT.
At just before 6:30 p.m., severe thunderstorms were located along a line extending from near Hampton to near Dundalk to Severn, moving east at 40 mph.
Damaging winds will cause some trees and large branches to fall. This could injure those outdoors, as well as damage homes and vehicles. Roadways may become blocked by downed trees. Localized power outages are possible. Unsecured light objects may become projectiles.
Locations impacted include Baltimore, Parkville, Carney, Hillendale, Towson, Glen Arm, Kingsville, White Marsh, Nottingham, Perry Hall, Overlea, Fullerton, Rosedale, Rossville, Linover, and Golden Ring.
Residents should move to an interior room on the lowest floor of a building.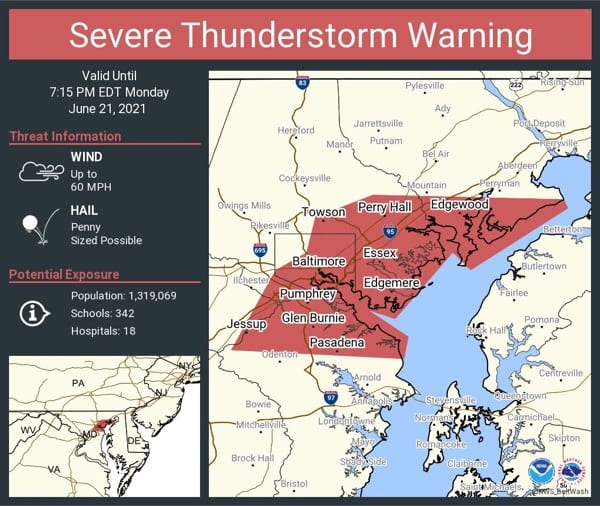 Facebook Comments