NOTTINGHAM, MD—A cicada-themed art exhibit is coming to THE AVENUE at White Marsh.
The local shopping & entertainment mecca is a sponsor of Cicada Parade-a, an outdoor public art exhibit throughout Baltimore. This large-scale collaborative art project, organized by Formstone Castle Collective, will be on display in and around the greater Baltimore area starting in June and running through the end of summer 2021. This whimsical display celebrates the re-emergence of the Brood X cicadas.
A pattern was hand carved from a block of plaster by artist Michael Bowman who then made a silicone mold to cast over 200 more. Each cicada sculpture is cast from Plaster of Paris and has copper wire legs. They are 18 inches long and weigh 8lbs. Local artists were welcomed to adopt sculptures to decorate in their own style.
THE AVENUE at White Marsh will have a "choir" on display throughout the property.
Cicada Parade-a is funded by a Maryland State Arts Council Creativity Grant.
Find a map of locations and information about the artists at https://www.cicada2021.com.
Advertisement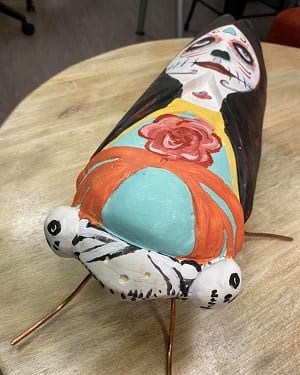 Facebook Comments