NOTTINGHAM, MD—More scattered thunderstorms and heavy rains are possible in the Nottingham area on Friday.
The National Weather Service says that severe thunderstorms are possible late Friday afternoon and evening.
Locally damaging wind gusts are the primary threat associated with these storms, although an isolated tornado is also possible.
The best chance for strong to severe storms will be between 3 p.m. and 10 p.m.
Heavy rain associated with showers and scattered thunderstorms may lead to isolated instances of flash flooding late Friday afternoon into Friday night.
Rain is likely to continue throughout the weekend, with a 70% chance of showers on Saturday and a 40% chance of showers on Sunday.  Both days will be notably cooler with highs only in the 50s.
Memorial Day, however, should be mostly sunny with highs in the mid-70s.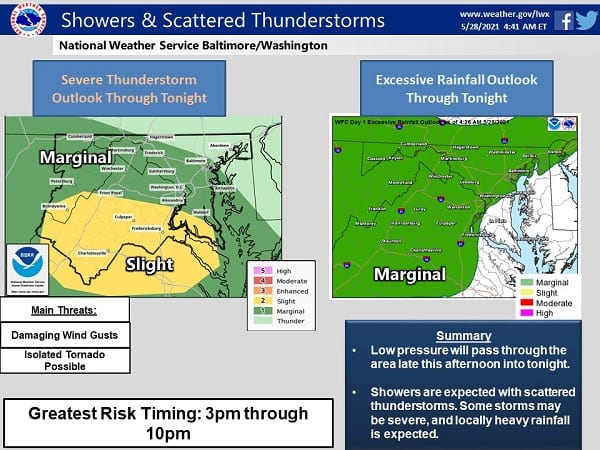 Advertisement
Facebook Comments