NOTTINGHAM, MD—Ninety-one martial arts instructors, representing 29 states, are vying for the title of 2020 Greatmats National Striking Martial Arts Instructor of the Year. The award is part of Greatmats' 6th Annual National Award Series, which honors instructors, coaches and trainers who have made a positive impact on their clients and communities.
Voting to determine this year's finalists will take place via this link on November 2-16, 2020.
Kumar Karki, with Everest World Class Taekwondo on Walther Boulevard, is in the running.
Master Karki has been dedicated to the art of Taekwondo for 32 years. Having grown up and mastered the sport in Nepal, he gained international recognition and extensive network of fellow martial artists, as international referee. Immigrating to the USA in 2008, Kumar was named general manager for H.K. Lee Taekwondo in Herndon, Viriginia under the Grandmaster Hyeon Kon Lee. In June 2015, Kumar and his wife, Kalpana (both National Taekwondo Champions for Nepal), opened Everest World Class Taekwondo Academy in Nottingham.
This year's nominees, listed by state, are:
Alabama
Andy Park, Tiger Park Taekwondo, Montgomery
Karen Mitchel, Impact Martial Arts, Pelham
Maxwell Tucker, The Dojang, Birmingham
Arkansas
Miguel Hernandez, Martial Arts The Training Center, Hot Springs
California
Daniel Pollaccia, Mastermind Martial Arts, Hesperia
David Kim, The ONE TaeKwonDo, Santa Clarita
Colorado
Ali Hanjani, Limitless Martial Arts, Broomfield
Matt Young, Exclusive Martial Arts, Denver
Florida
Jason Smith, Believe Martial Arts, Chipley
Illinois
Doug Dennis, Shoto Kan Karate Club, Springfield
Indiana
George Nae, House of Martial Arts, Carmel
Kiko Suarez, UFC Gym Indianapolis/Whitestown, Whitestown
Michael Riley, Riley's School of Karate, Bluffton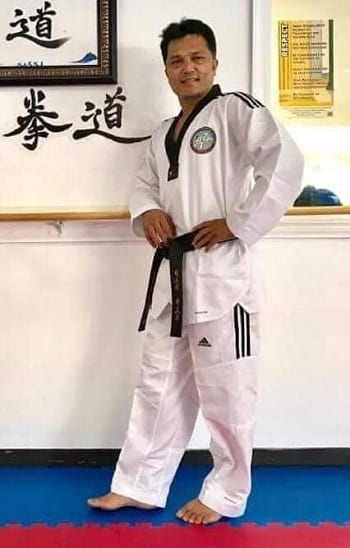 Maryland
Adam Kreimer, Kreimer's Karate Institute Inc, Frederick
Kumar Karki, Everest World Class Taekwondo, Nottingham
Massachusetts
Derek Field, Field Martial Arts Academy, Norwood
Johnny Gasdia, Premier Martial Arts, Raynham
Natthew Nordberg, America's Best Defense, Mansfield
Michael Pepe, Shorin-ryu Karatedo and Kubudo Association of America,
Watertown
Michigan
Geoffrey Spohn, Tatsu Te Ryu Karate Systems, Allegan
Rocco Ambrose, Ambrose Academy of Wing Chun, Livonia
Minnesota
Bryce Tveter, Northwest Martial Arts, St. Cloud
James Franklin, Minnesota Star Martial Arts, Coon Rapids
Jason Warren, Premier Martial Arts, Andover
John Lodermeier, Singewalds ATA, Prior Lake
Zach Walters, Jungle Boy Boxing Gym, Duluth
Missouri
Chris Wetherington, Balanced Warrior MMA & Karate LLC, St. Louis
Joan Cather, ATA Martail Arts Saint Ann, St. Ann
Mike Butler, Millennium Martial Arts Academy, Kansas City
North Carolina
Phil Hoskins, Toma Dojo, Matthews
Quintin Byrd, Carolina Fighting Arts, Raleigh
Russell Lewis, Master Lewis' Taekwondo, Morehead City
New Jersey
Damien Wright, Wright Fight Concepts, New Egypt
Dan Scielzo, Mayers Karate and Fitness, North Haledon
Duane Buck, Moo-Ju-Do Fighting Systems, Burlington
New Mexico
Daniel Souza, Carlson Gracie Coyote Team, Albuquerque
New York
Jared Webb, Karate John's Martial Arts Center, Cicero
Laura Gross, Cobbleskill Taekwondo, Cobleskill
Maggie Messina, Taecole Taekwondo and Fitness, Abertson
Matthew Barnell, Karate John's Martial Arts Center, Cicero
Raz Chen, Krav Maga Experts, New York
Todd Patterson, Pride Martial Arts Academy, Clarence
Tyler Corp, Karate John's Martial Arts Center, Cicero
Walter Vendura, Long Island Traditional Tae Kwon Do, East Setauket
Nevada
Kristof Navarro, Victory Martial Arts, Las Vegas
Ohio
Christie McClellan, McClellan's Taekwondo Academy, Gahanna
Joon Choi, Oriental Martial Arts College, Reynoldsburg
Todd Tomco, Tracy's Karate, Medina
Justin Taylor, Junior Taekwondo School, Boardman
Oklahoma
Jim Hammons, Martial Arts Advantage, Broken Arrow
Pennsylvania
Christopher Miller, Miller's Martial Arts, Johnstown
Dean Kelly, C.S. Kim, McMurray
Dustin Baldis, Pennsylvania Shotokan Karate Club, Moon Township
Elizabeth Lindsay, C.S. Kim-North Huntingdon, Irwin
Harry Pfister, Villari's Self Defense Centers, Chalfont
Jeremy Kelly, C.S. Kim, McMurray
Joe Weber, East West Karate, Warminster
John Morgart Jr., Wei Son Do Martial Arts, Irwin
Julia Felton, C.S. Kim, McMurray
Kevin Gates, Altoona Center for Martial Arts, Altoona
Leon Wiener, Villari's Self Defense Centers, Chalfont
Tom Waltrich, Villari's Self Defense Centers, Chalfont
Rhode Island
David Ahrens, East Coast Karate, Richmond
South Carolina
Allan Dela Cruz, Academy of Martial Arts, Goose Creek
Avery Richard, Indian Land MMA, Indian Land
Cameron Smith, Premier Martial Arts – Hensley PMA, North Augusta
Derek Kennington, The Next Element Academy, Myrtle Beach
Tennessee
Randy Scarborough, Scarborough Academy of Isshinryu, Harriman
Sebastion Silva, Yon-In Martial Arts, Hixson
Texas
Gleidson Cutis, Fighteria, Wimberley
Jake Davis, Legacy Martial Arts, Harker Heights
Jennifer Landers, Korean Taekwondo Institute, Irving
Jocelyn Herndon, Legend Martial Arts ATA, Denison
Joseph Gonzalez, Gonzalez Karate Academy, Laredo
Joseph Walker, Academy of Okinawan Karate, Burleson
Mike Ashwood, International Karate and Self Defense, Forney
Randy Carvin, ATA Martial Arts, San Angelo
Sterling Vega, SVega TKD, Pfugerville
Utah
John South, Premier Martial Arts, Bountiful
Vermont
Kellie Thomas, TaeKwon Do Kicks, Middlebury
Virginia
Lewis Sutton, Blast Martial Arts, Chesterfield
Matthew Heinemann, Brian Mayes Karate, Harrisonburg
William Kempton, Brian Mayes Karate, Harrisonburg
Washington
Jonathan Campbell, Eastside Kyukushin Karate and Self Defense,
Kirkland
Wisconsin
Frank and Sarah Derrico, Derrico's Black Belt School, Medford
Herb Blue, Total Self Defense LLC, Green Bay
Luke Palmer, Infinity Martial Arts, Oregon