NOTTINGHAM, MD—This week's Fall Foliage Report from the Maryland Department of Natural resources indicates that the Baltimore area is "at peak," as this season continues to bring on the best fall colors Maryland has seen in at least six years.
From Ranger Angela Crenshaw, Gunpowder Falls State Park: "Over the river and through the woods to the Little Gunpowder Falls we go! Autumn is here and the park is showing off its fall colors."
Ranger Felicia Graves, Patapsco Valley State Park, says: "In the Hilton area there are still plenty of opportunities to still see the beautiful assortment of fall colors. However, if visitors wish to enjoy this colorful palette, this may be one of a few chances left. The Daniels area is completely different from the Hilton area. While still an excellent location, it's past peak and offers no opportunities to see fall colors. It is though a great spot to unwind when it's not busy."
So what causes the leaves to start changing colors every year?
As summer fades into fall, the days start getting shorter and there is less sunlight. This is a signal for the leaf to prepare for winter and to stop making chlorophyll. Once this happens, the green color starts to fade and the reds, oranges, and yellows become visible.
Advertisement
This week's full Fall Foliage Report can be found here.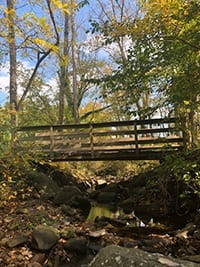 Facebook Comments