PARKVILLE, MD—Police in Baltimore County say that a 32-year-old man has been reported missing from the Parkville area.
The FindUS Network says James Matthew Ennd, known as Matt, reportedly went missing on September 11, 2020. Matt was last seen near Briarcliff Road in the Parkville area.
Ennd is 6'2″, weighs 180 pounds, and has brown hair and blue eyes. He likes wearing a bicycling headband most of the time.
Matt also has a tattoo of a "hula girl" on his right arm.M
Matt's family members are concerned for his well-being as he was "very upset" when he was last seen. They also say he was "struggling mentally."
Anyone with information on James Matthew Ennd's whereabouts is asked to the Parkville Precinct at 410-887-5310 or his mother at 443-895-2624.
Advertisement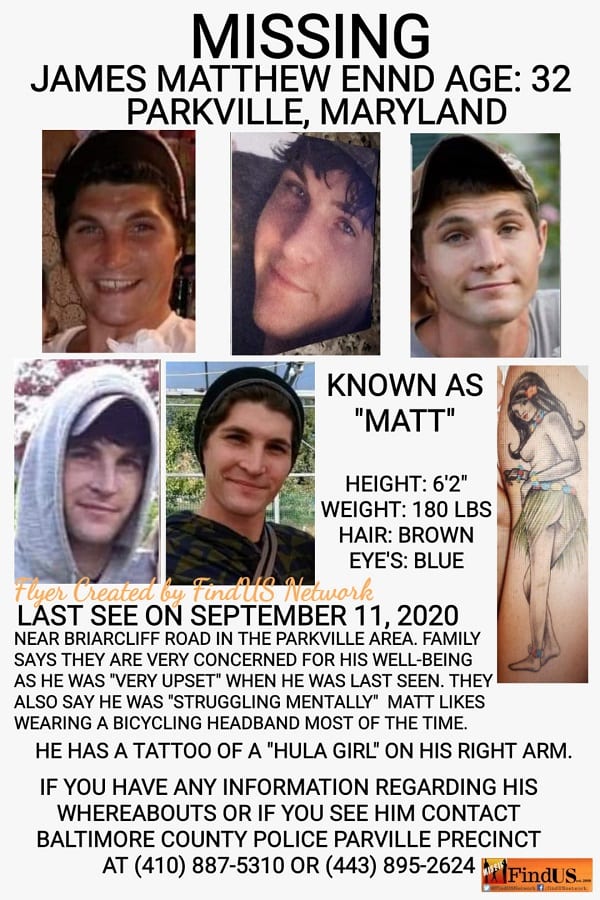 Facebook Comments