ANNAPOLIS, MD—Governor Larry Hogan on Wednesday held a press conference to provide an update on the state's response to the novel coronavirus pandemic.
The governor stated that, due to early and aggressive actions and the extraordinary sacrifices of Marylanders, officials are now in a position to move from containment and mitigation to planning the gradual roll out of the state's recovery phase.
"There are some very real reasons for hope and optimism right now and there is clearly a light at the end of this tunnel," Hogan said. "But exactly how and when we will get to that light is going to be up to each and every one of us."
The governor announced an executive order which will require the wearing of masks or face coverings when inside retail establishments or when riding any form of public transportation in Maryland.
The order also will also require all retail locations to require staff to wear face coverings and will require those businesses to put appropriate social distancing measures in place. To give retailers time to make these adjustments, the order will go into effect at 7 a.m. on Saturday.
"While this order is an important step in our immediate efforts to protect public health and safety, the wearing of masks is also something that we may all have to become more accustomed to in order to safely reopen our state," said Governor Hogan.
The full executive order can be viewed below.
The full transcript from the press conference can be viewed here and the full video is below the executive order.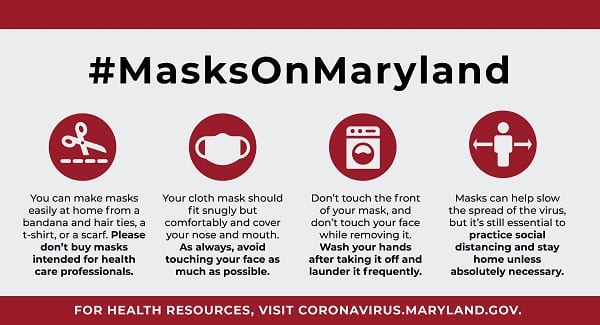 Facebook Comments