UPDATE: A new Severe Thunderstorm Warning has also been issued for Middle River, Essex, Rosedale, Chase, Bowleys Quarters, Joppa, Kingsville, Edgewood, and other portions of Baltimore County and Harford County until 3:15 p.m.  See updated graphics in post.
Original story below…
——
NOTTINGHAM, MD—The National Weather Service has issued a Severe Thunderstorm Warning for portions of Baltimore County.
The warning will be in effect until 2:45 p.m. and impacts Towson, Parkville, Carney, Perry Hall, and Fallston.
At 2:00 p.m., severe thunderstorms were located along a line extending from near Manchester to 6 miles northwest of Eldersburg, moving east at 50 mph.
Wind gusts of up to 60 are possible.
Damaging winds will cause some trees and large branches to fall. This could injure those outdoors, as well as damage homes and vehicles.
Roadways may become blocked by downed trees. Localized power outages are possible. Unsecured light objects may become projectiles.
Advertisement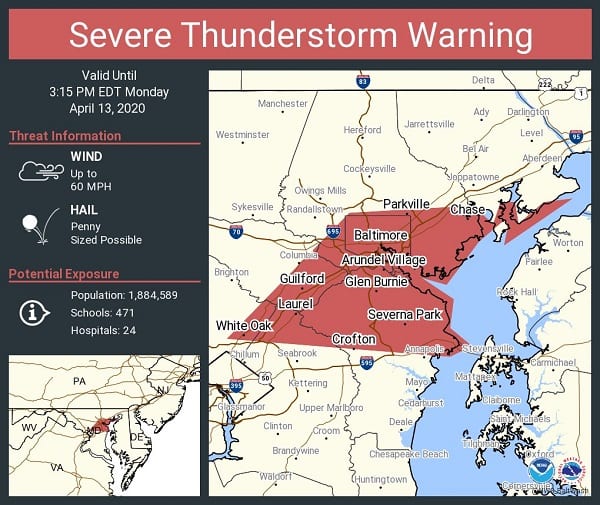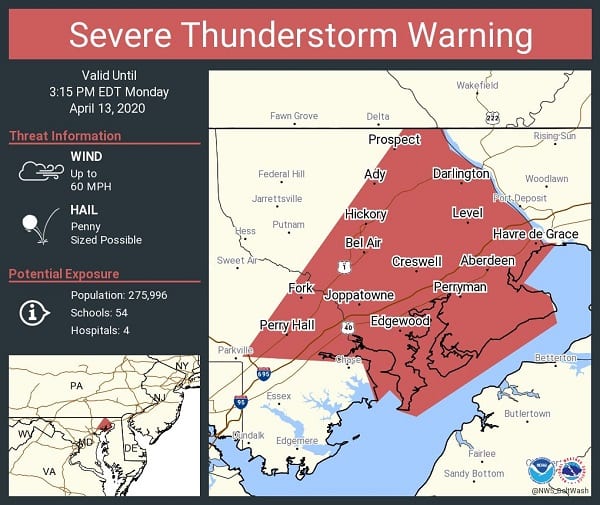 Facebook Comments