BALTIMORE, MD—The number of confirmed coronavirus cases in Maryland has surpassed the 5,000 mark.
On Wednesday, the Maryland Department of Heath reported a total of 5,529 cases in Maryland, a one-day increase of 1,158 cases.
There have been 124 COVID-19 deaths in Maryland, 1,106 hospitalizations, and 32,933 negative test results, according to MDH. There have been 652 confirmed cases in Baltimore County.
"This virus continues to spread in every jurisdiction, and as I have been saying for weeks, the Baltimore-Washington corridor has become an emerging hotspot," said Governor Larry Hogan on Wednesday. "An increase in new infections is just one of the reasons for today's significant jump in new cases. This is also due to our ongoing efforts to ramp up testing in Maryland, with more private labs coming onboard and the expansion of commercial lab capacity."
Story continues below
"Today's numbers reflect a tripling of the tests reported since yesterday," Governor Hogan added. "We are seeing commercial labs begin to clear their backlog of tests. More than 30 percent of the new cases reported today are for testing that was completed in March."
"I want to once again remind all Marylanders to continue to stay home and stay informed," Hogan concluded. "We are all in this together, and we will get through this together."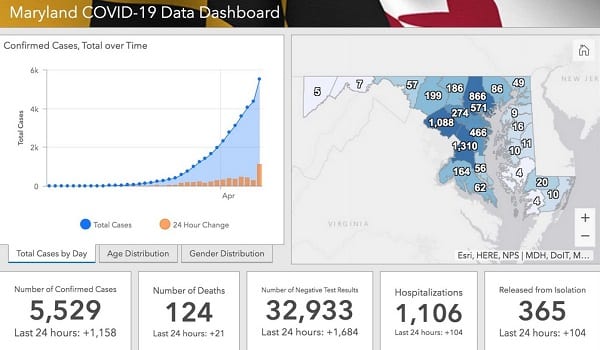 Facebook Comments