NOTTINGHAM, MD—The Baltimore County Department of Health will be offering a free, two-hour training session on how to recognize, prevent, and respond to an opioid overdose by using intranasal naloxone.
Naloxone is a prescription medication that is used to reverse an overdose.
Due to limited seating at these, preregistration is required.
Health officials say that overdose death rates involving fentanyl are rising at an alarming rate. In these sessions, participants will learn what to do in the event of an overdose.
Training Dates:
Story continues below
Wednesday, March 4, 2020, 6 to 8 p.m.
Essex Library
1110 Eastern Boulevard
Essex, Maryland 21221
Wednesday, March 18, 2020, 6 to 8 p.m.
White Marsh Library
8133 Sandpiper Circle
Baltimore, Maryland 21236
Wednesday, March 25, 2020, 6 to 8 p.m.
Sussex Elementary School Cafeteria
515 South Woodward Drive
Essex, Maryland 21221
Individuals concerned that a family member is at risk for overdosing on heroin or prescription pain medication and those with certificates that will expire within the next three months are encouraged to attend this training.
Individuals with questions about renewing their certificates should call the Bureau of Behavioral Health at 410-887-3828.
Training participants will learn:
What an opioid is
How to recognize, respond to and prevent an opioid overdose
How to administer intranasal naloxone to reverse an overdose
Those interested in attending should register online here.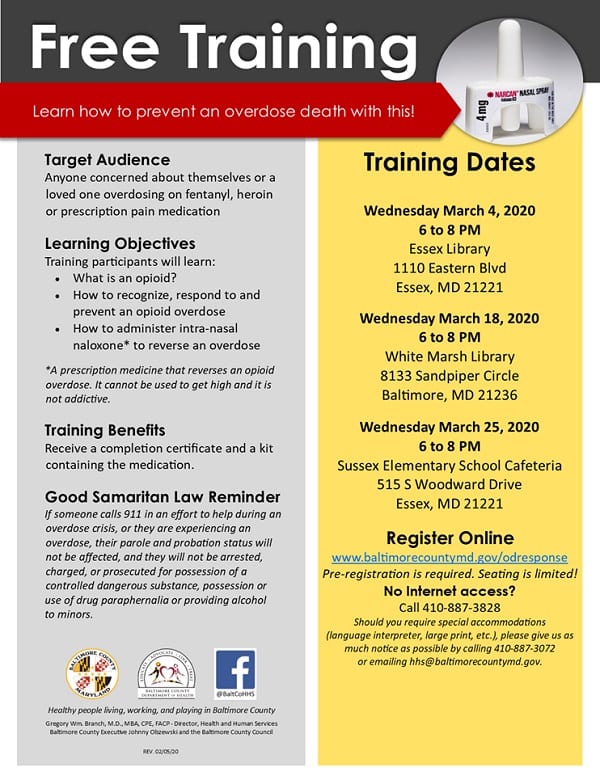 Facebook Comments