MIDDLE RIVER, MD—An annual tradition returns to Middle River later this month.
On Saturday, February 15, the Glenn L. Martin Maryland Aviation Museum at Martin State Airport offers a Family Fun Day that transports visitors to the 1940s.
Families will work together in a History/STEM challenge to assemble a 5-foot high student size World War II B-26 Martin Marauder airplane originally produced by the Glenn L. Martin Company in Middle River, MD.
Assembly shifts are 11:30 a.m. and 1:30 p.m.
Eastern Baltimore County was built on the wings of the Glenn L. Martin Company when aircraft production increased in support of World War II. Martin's workforce expanded to over 53,000 when its manufacturing employment opportunities attracted folks from across the country.
The Museum's B-26 activity is a family-fun activity for introducing children and teens to United States history and Maryland's contribution to the war effort and aviation.
Story continues below
This assembly activity is included with admission of $5 for adults and $3 for children.
Visitors may tour the Museum before or after the activity with visiting hours of 11 a.m. to 3 p.m.
For additional information, call 410-682-6122, visit www.mdairmuseum.org, or visit the event page on Facebook.
The Glenn L. Martin Maryland Aviation Museum is located at 701 Wilson Point Road, Ste 5, in Middle River (21220).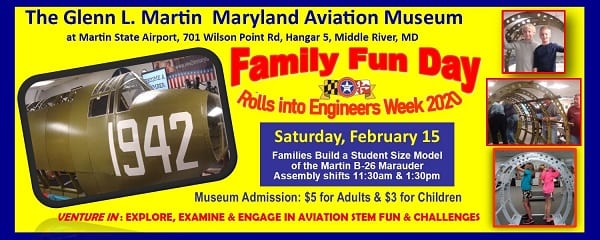 Facebook Comments