NOTTINGHAM, MD—When will the storms arrive on Halloween night in Baltimore?
Forecasters had previously warned of severe weather just in time for trick-or-treating and on Thursday, the National Weather Service issued a timeline for when to expect the storms across Maryland.
The NWS now says storms should arrive in Baltimore County between 9 and 11 p.m., but the forecast is subject to change. Storms could potentially arrive anywhere between 7 p.m. and midnight.
Story continues below
There is an "enhanced" threat or severe weather across Maryland on Thursday evening.
Threats include localized damaging winds, heavy rain, and even a few tornadoes.
"With heavy rains and winds expected in our region later this evening, we are urging families to be careful and watch the local forecast for changing conditions to be sure to have a safe and fun Halloween," Baltimore County officials said on Twitter.
The full storm arrival timeline can be viewed below.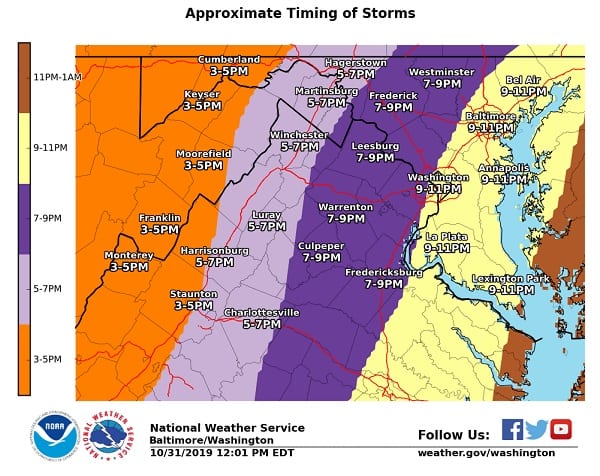 Unfortunately, our area may see heavy rainfall and thunderstorms this evening. I urge Marylanders to keep an eye on their local forecast so that trick-or-treating can be fun, not frightful! https://t.co/sUuvN6ahoZ

— Governor Larry Hogan (@GovLarryHogan) October 31, 2019
Facebook Comments