PERRY HALL, MD – The MDTA iwill host two public meetings to discuss updates on the I-95 Express Toll Lanes Northbound Extension.
The first meeting will be held on Monday, August 5, at Perry Hall High School from 4:30 to 6:30 p.m.  A second meeting will be held on Wednesday, August 7, at William Paca/Old Post Road Elementary School in Abingdon from 4:30 p.m. to 6:30 p.m.
Attendees will have the opportunity to meet the program team, learn about overpass replacements at Clayton Road and Abingdon Road, learn about the new Park & Ride at MD 24/924 and the relocated MD-152 Park & Ride, and learn about new noise wall locations.
Story continues below
More details can be found in the graphic below.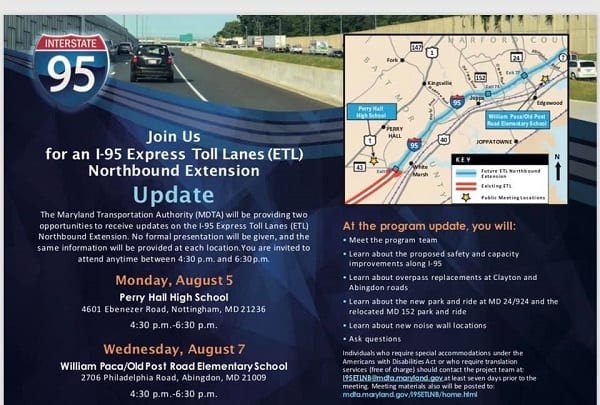 Facebook Comments