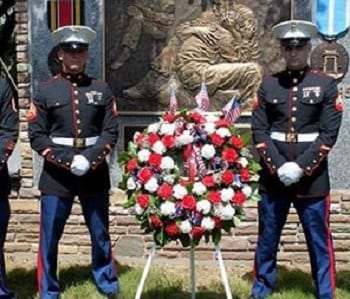 TIMONIUM, MD – Maryland's 9/11 Rolling Memorial, which is based out of Parkville, will help commemorate the fallen at the 2019 Memorial Day Ceremony in Timonium this weekend.
The ceremony will be held at 10 a.m. on Monday, May 27, at Dulaney Valley Memorial Gardens.
The annual ceremony, held within the Circle of Immortals section of the Field of Honor, is a traditional, patriotic gathering to honor all Marylanders who have paid the highest price in defense of our nation. The event is open to the public and will be held, rain or shine.
At this year's ceremony, the following soldiers will be remembered:
Capt. John F. Graziano, 28, of Elkridge, was killed in a plane crash on November 13, 2018, when his T-38C Talon jet crashed at Laughlin Air Force base in Texas.
Staff Sgt. Eddison A. Hermond Jr., 39, died on May 29, 2018, while attempting to help a woman during the flash flooding in Ellicott City.  Hermond was swept away by the current.
Senior Chief Petty Officer Shannon M. Kent, 35, was killed by a suicide bomber in Syria on January 16, 2019. She was stationed at Fort Meade.
The 9/11 Rolling Memorial's bell will toll as each service member is honored at the ceremony.