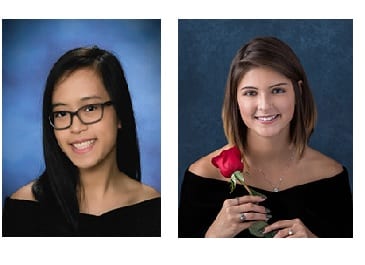 TOWSON, MD. – Two seniors from Eastern Technical High School in Essex have earned college scholarships from Magnet Schools of America.
The honored students, who will receive $1,000 each, will graduate from a Baltimore County Public Schools magnet program in 2019 and were selected on the basis of their high academic and personal achievement, leadership potential, and contributions to their magnet program and community.
The scholarship recipients are listed below along with the magnet program they participate in, school they attend, college plans, and quotes about the impact of their magnet experiences.
Alexandra Joy Saquilayan (left photo), Engineering Careers, Eastern Technical High School
Plans to study civil engineering at University of Maryland College Park
"The engineering program at my school taught me to be confident in my abilities and to not be discouraged when plans don't work out the first time or the second."
Elizabeth Wagner (right photo), Engineering Careers, Eastern Technical High School
Plans to study chemical engineering at University of Maryland College Park
"From various competitions to projects to simple group work, the engineering careers magnet has introduced me to the world of engineering and encouraged my interest in studying chemical engineering as my college major."
Facebook Comments