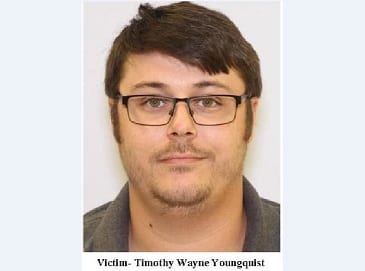 Detectives are investigating the murder of a food delivery driver from Joppa.  Authorities are offering a $10,000 reward in connection with the case.
On Sunday, February 10, at around 8:30 p.m., officers responded to the 700-block of Monticello Court in Edgewood for a report of a shooting.
At the scene, police found Timothy Wayne Youngquist, 34, of Joppa, lying on the ground and suffering from a gunshot wound.
Medics transported Youngquist to a local hospital, where he was later pronounced dead.
Three males were scene running from the crime scene.
Story continues below
Police say Youngquist was working as a food delivery driver when he was shot during what appears to have been an attempted robbery.
Anyone with camera footage or other information connected to this case is asked to contact police at 443-409-3546.
Citizens can also submit a tip via Metro Crime Stoppers.  If your tip leads to an arrest, you may be eligible for a reward of up to $2,000.  In addition, the Harford County Narcotics Task Force is offering an additional reward of up to $8,000.
Tips can be submitted by calling 1-866-7LOCKUP or online at http://www.metrocrimestoppers.org.
Facebook Comments