Another round of wintry weather may be headed for the Nottingham area.
The National Weather Service has issued a Winter Weather Advisory for northern Baltimore County.
The advisory will be in effect from 6 a.m. until noon on Saturday.
Freezing rain, mixed with sleet, is expected to begin early Saturday morning. Total ice accumulations will be about one-tenth of an inch for most areas before wintry precipitation turns to plain rain by noon Saturday.
Story continues below
Freezing rain and sleet on cold road surfaces, bridges, ramps, and overpasses will result in slippery travel. Motorists should use caution if they will be driving Saturday morning.
A Winter Weather Advisory means that periods of snow, sleet, or freezing rain will cause travel difficulties. Expect slippery roads and limited visibilities, and use caution while driving.
The latest road conditions for the state of Maryland can be obtained by calling 5 1 1.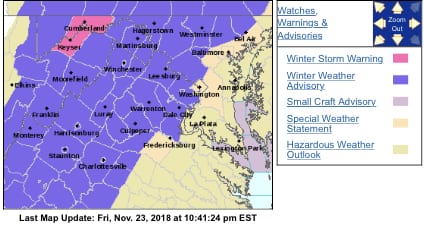 Facebook Comments