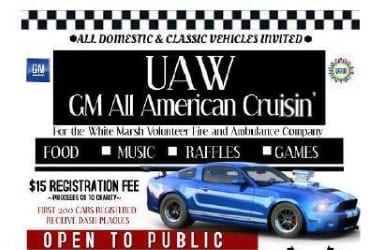 A big auto show is coming to White Marsh later this month.
The 2018 UAW GM "All American Cruisin' Car Show" will be held at the GM Baltimore Operations Plans on Saturday, September 29, 2018, from 10 a.m. to 2 p.m.
The plant is located at 10301 Philadelphia Road in White Marsh.
Proceeds will benefit the White Marsh Volunteer Fire Company.
Story continues below
The event will feature fun for the whole family – food, music, raffles, games for the kids, etc.
All domestic and classic vehicles are invited. There is a $15 registration fee.
Call 443-425-1500 for more information.
Facebook Comments