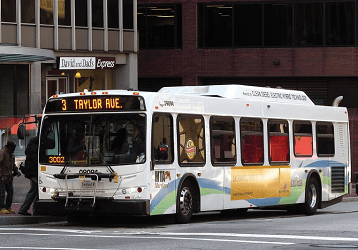 UPDATE: Councilman David Marks has responded to County Executive Mohler's remarks.
"The mall closes at 9 p.m. Our proposal is to increase the number of buses until 11 p.m., on Fridays and Saturdays, so that employees and patrons can immediately reach their destinations. This change, combined with better security and a youth escort policy, would greatly improve conditions at White Marsh Mall," said Councilman Marks.
"There are people of all backgrounds who work and patronize the mall. They deserve safe conditions. Perhaps some of our critics can start offering solutions instead of just rhetoric.​"
Original story below…
——
On Friday, Baltimore County Executive Don Mohler issued a statement responding to requests from local officials to limit bus service between Baltimore City and Baltimore County.
"I will inform the Maryland Transit Administration (MTA) that I do not support any effort to limit bus service from Baltimore City to the County," Mohler said. "While I understand the frustration that was caused by a recent disruption at White Marsh Mall, stigmatizing and creating hardship for city residents is not an acceptable response. It is 2018. Not 1950. We are neighbors with Baltimore City and stand with them."
A disturbance at the mall last Saturday night spilled over to The Avenue at White Marsh and required a response from more than 30 police officers.
In all, seven juveniles and two adults were arrested.
Michael Jerard Forrester, 19, of the 100-block of North Freemont Avenue (21201), has been charged with second-degree assault, resisting arrest, disorderly conduct, and trespassing. He was released on a $1,000 bond.
Tyrell Davon Rigby, 19, of the 2600-block of Mura Street (21213), has been charged with disorderly conduct, failing to obey a reasonable & lawful order, obstructing & hindering, and trespassing. He was released on his own recognizance.
Advertisement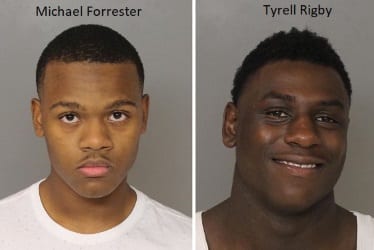 Councilman David Marks, who represents the Fifth District, and Councilwoman Cathy Bevins, who represents the Sixth District (which includes White Marsh), urged the MTA to consider reducing bus service to White Marsh Mall in response to the incident.
"There are many employees who use MTA service to get to White Marsh Mall," said Councilman Marks. "We should respect that, but restructure service so there are not large crowds hanging around hours after the mall closes."
In a letter to MTA Administrator Kevin B. Quinn Jr., the two council members wrote that "large crowds of youth in the evening on weekends" have "become a safety concern."
"The youth have been disruptive, hard to control and they pose a safety risk to themselves crossing the road," Bevins and Marks wrote.
On Friday, Mohler indicated that he would not support such an initiative.
"We cannot and should not put a moat around our city partners," Mohler said. "We must continue to work together on complex issues for the good of the Baltimore region."
Facebook Comments