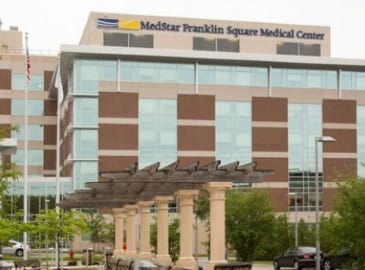 MedStar Franklin Square Medical Center has become the first hospital in the Baltimore area to be recognized by the National Safe Sleep Hospital Certification Program for its commitment to educating parents on safe sleep practices for infants.
Only two other hospitals in Maryland achieved a designation from the program, which was created by Cribs for Kids, a Pittsburgh-based organization dedicated to preventing infant, sleep-related deaths due to accidental suffocation. MedStar Franklin Square Medical Center was named a Certified Safe Sleep Hospital.
There were about 3,600 sudden unexpected infant deaths (SUID) in the United States in 2016. These deaths occur among infants less than one year old, and include suffocation and SIDS (sudden infant death syndrome), which has an unknown cause.
"Losing an infant to SUID is a parent's worst fear," said Fernando V. Mena, MD, FAAP, chief of neonatology and interim chairman of the department of pediatrics. "In an initiative started in 2005, we have taken many steps to educate parents on how to put their infants down to sleep safely and are grateful to Cribs for Kids for recognizing our efforts."
To achieve the organization's bronze level designation, MedStar Franklin Square developed a safe sleep policy, provided staff training on infant safe sleep, and provided infant safe sleep education to the parents of infants prior to discharge.
The American Academy of Pediatrics recommends infants sleep on their backs on a firm, flat surface in a crib or bassinet. Parents should share the room but not the bed with the child, and not use swings, wedges, crib bumpers or other devices that could adversely impact an infant's breathing.
Led by clinical nurse specialist Karen Corson, the team included labor and delivery education specialist Marge Flannery, obstetrics department nurse Michele Frock and perinatology nurse Jill Fischer, who put in place the measures that achieved the designation.