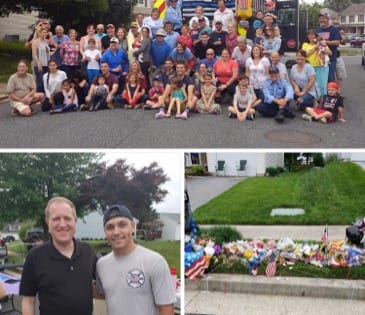 A local government official and residents of a Perry Hall neighborhood spent Memorial Day remembering a police officer who lost her life earlier this month.
On Monday, Councilman David Marks visited Linwen Way, the Perry Hall area street on which Officer Amy Caprio was run down in the line of duty exactly one week earlier.
Councilman Marks said he wanted to visit the residents who acted so courageously on May 21st.
"I waited a few days to come up here," said Councilman Marks, "but I wanted to thank those who acted so heroically earlier this week."
Story continues below
Officer Caprio was investigating a report of a suspicious vehicle, which was likely connected to a string of local burglaries, when the driver of the vehicle accelerated and ran her over, causing fatal injuries.
Local residents attempted to perform life-saving CPR until paramedics arrived on the scene, but Officer Caprio succumbed to her injuries.
Her funeral was held on Friday. The four suspects who were inside of the vehicle have been arrested and are awaiting trial.
Flowers and American flags now adorn the spot on Linwen Way upon which Officer Caprio was struck.
Facebook Comments