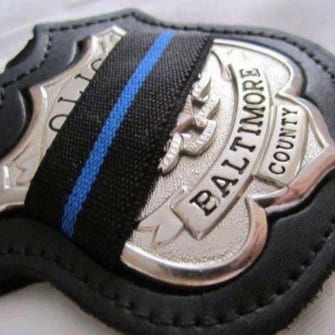 As previously announced, memorial services will take place on Thursday and Friday for fallen Officer Amy Caprio.
Local traffic will be impacted.
The viewing for the slain police officer will be held on Thursday at Schimunek Funeral Home, located at 9705 Belair Road in Perry Hall.
There will be a private viewing from 1 to 2 p.m., followed by a public viewing from 2 to 5 p.m. and an additional public viewing from 7 to 9 p.m.
Due to the volume of cars expected for the viewing, all lanes of Belair Road will be closed in both directions between Chapel Road and Honeygo Boulevard from noon until 10 p.m.
Sign boards will be up diverting traffic to Joppa Road, Chapel Road, and Honeygo Boulevard with detour instructions.
Story continues below
Officers will be posted at both ends of the road closure to assist motorists. Residents and attendees will be allowed through onto Belair Road.
The funeral service for Officer Caprio will be held on Friday May 25, at 10:00 a.m. at Mountain Christian Church, located at 1824 Mountain Road in Joppa.
Motorists should expect delays along northbound Belair Road from 9 to 10 a.m. as Officer Caprio is transported to Mountain Christian.
The funeral procession is expected to begin at 11:30 a.m.  Motorists should expect significant road closures during the time of the procession. The burial will be held at Dulaney Valley Memorial Gardens, located at 200 E. Padonia Road, 21093.
The route will be as follows:
East on Mountain Road to I-95 South
South on I-95 to I-695 West
West on I-695 to I-83 North
North on I-83 to Exit 17- Padonia Road
East onto Padonia Road to the entrance of Dulaney Valley Memorial Gardens
Facebook Comments