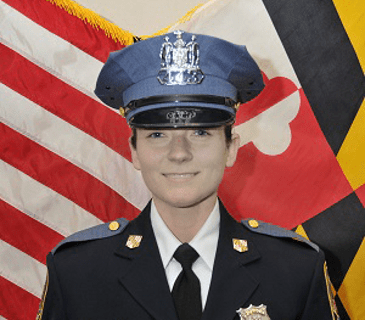 Three additional suspects have been identified in connection with the murder of Officer Amy Caprio.
The three suspects have been automatically waived to adult status and have been charged with first-degree murder and first-degree burglary.
All three suspects are being held without bail at the Baltimore County Detention Center pending bail review on Wednesday.
Eugene Robert Genius, 17, of the 400 block of North Lakewood Avenue (21224) was arrested at a home on 33rd Street in Baltimore City at 8:40 a.m. on Tuesday.
Derrick Eugene Matthews, 16, of the 200 block of South Dallas Court (21231) was arrested at a home in the 1800 block of E. 29th Street in Baltimore City at 8:53 a.m. on Tuesday.
Darrell Jaymar Ward, 15, of the 2300 block of Ashland Avenue (21205) was arrested at his home on Ashland Avenue in Baltimore City at 9:31 a.m. on Tuesday.
Dawnta Anthony Harris, 16, the driver, was arrested on Monday and identified on Tuesday.
Officer Caprio was killed on Monday afternoon while investigating a suspicious vehicle on Linwen Way in Perry Hall.  Authorities believe the suspects ran her down in their vehicle, causing deadly injuries.  She was an almost-four-year veteran of the Baltimore County Police Department.
Officer Caprio was assigned to the Parkville precinct.