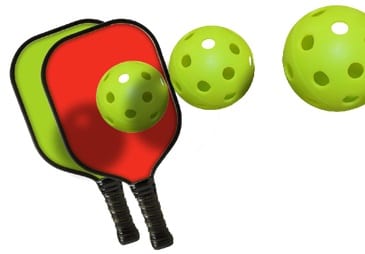 Baltimore County Executive Kevin Kamenetz announced that the county is embracing the latest all-ages fitness sports craze and re-striping 64 tennis, multi-purpose, and basketball courts around the county to also accommodate the game of pickleball, a paddle sport that combines elements of tennis, badminton and ping pong.
The game was invented in 1965 in the Seattle area with the goal of creating a vigorous game that is easy to learn and play for children and adults of all ages who want to exercise and have fun. It is usually played on a custom-striped badminton-sized court using large lightweight solid paddles to hit a wiffle ball over a low net.
The rules are similar to tennis and players bring their own net and paddles. It is a featured sport in Baltimore County elementary physical education classes because it helps to develop hand-eye coordination and can be easier to learn than racquet sports.
The first phase is estimated to cost $32,000, and the custom lines are striped red or yellow to differentiate from the lines used for tennis, basketball and other sports.
"This is a great way for people to maintain their fitness and have fun with family and friends," said Baltimore County Executive Kevin Kamenetz. "By expanding the use of existing courts, we are really getting a big bang for the buck in terms of adding popular community amenities at a low cost and bringing new life to seldom-used courts.
Pickleball is gaining popularity around the country and, like most paddle sports, players can take a leisurely or a fast-paced competitive approach to the game. According to the United States of America Pickleball Association (USAPA), there are more than 2.8 million people playing pickleball nationally, and that number increased by 15 percent since last year.
"I am pleased that we are continuing to expand recreational opportunities in northeastern Baltimore County," said Councilman David Marks. "Little league games are an important part of our recreational program, but so are activities for people of all ages and interests."
As an example, Marks pointed out Perry Paw Dog Park, which was  created under his watch.
"A lot of people are excited that the lines are going down on so many courts in the County and that Pickleball will be so much more local and accessible, cutting down on long lines to play," said Lynne Coburn, who teaches physical education at Reisterstown Elementary School and serves as the USAPA Pickleball Ambassador of Baltimore County. "Pickleball is the fastest growing sport in America and it's a sport that everyone can play. I often see three generations on the court together having a great time."
The first court has been completed at Catonsville Community Park and court restriping is underway this week at Loch Raven Center and West Towson Park. The county plans to complete outdoor pickleball courts this summer at the following county parks and recreation centers as the first phase of this initiative:
Ateaze Senior Center, Towson
Catonsville Community Park, Catonsville
County Home Park, Cockeysville
Honeygo Regional Park, White Marsh
Jacksonville Elementary School
Loch Raven Center, Parkville
Northeast Regional Recreation Center, Parkville (concrete indoor court)
Old Catonsville Elementary School
Rosedale Elementary School
Seven Oaks Elementary School, Perry Hall
Warren Place Park, Cockeysville
West Towson Park
Additional repair work may be needed to accommodate outdoor pickleball courts at Hernwood Elementary School in Randallstown and Wellwood International Elementary School in Pikesville. The county is working to secure pricing for these two projects, with a timetable to be determined.
As the second phase of the Pickleball initiative, indoor courts are planned for the following community recreation centers, with the timing and cost of these courts to be determined based on bids for the projects and the need to work through logistics and programming issues at each of these locations:
Cockeysville Community Center
Honeygo Regional Park, White Marsh
Jacksonville Community Center