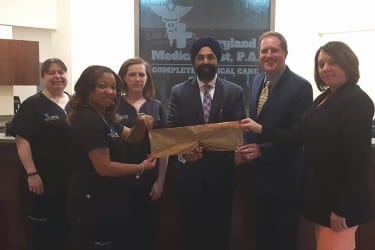 A new business has opened its doors in the Carney portion of Parkville.
On Thursday morning, Councilman David Marks joined employees of Maryland Medical First, PA at the opening of their new location.
Maryland Medical First, PA employs 21 people. The practice specializes in internal medicine and geriatric care for patients aged 18 and up.
Dr. Narender Bharaj, MD, CMD, built the new office along the heavily-traveled Joppa Road corridor.
"I am delighted to welcome this newest business to the Joppa Road corridor," said Councilman Marks. "There is a significant amount of revitalization occurring along this older corridor, from Loch Raven Commons to Satyr Hill."
"We look forward to continue providing quality health care and outstanding professional standards," Dr. Bharaj added.
Facebook Comments