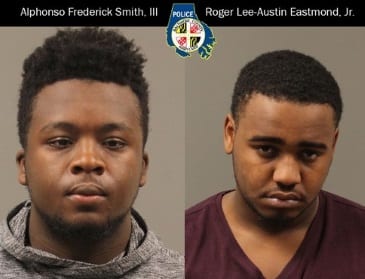 Police have charged two men in connection with the homicide of a 13-year-old girl in Middle River in 2017.
At just before midnight on July 31, 2017, officers responded to the 700 block of Peterson Road in Middle River (21220) for a shooting. Upon arriving at the scene, police found a located a female victim with multiple gunshot wounds to the upper and lower body.
The victim, Iyanna Nachae Watkins, 13, of Middle River, was pronounced dead at the scene.
A second victim, an adult male with at least one gunshot wound to the lower body, was located in the 500 block of Compass Road and transported to a local hospital. A third victim, also an adult male with at least one gunshot wound to the lower body, was identified after he was taken to a hospital by a family member.
On Friday morning, January 26, police in Baltimore County charged Alphonso Frederick Smith III, 19, of Essex (21221), and Roger Lee-Austin Eastmond Jr., 19, of Baltimore City (21206), each with first-degree murder, and two counts of attempted first-degree murder. Both men are being held on denied bail status.
Detectives learned that the shooting was the result of a prior altercation between Smith and a friend of the victims. After the fight, Smith told the group that he would be back. Later that same day, the victims were with a group of people sitting behind the 7-Eleven store to the rear of Peterson Road.
Smith and Eastmond found the group, including the person from the earlier fight, and coordinated the shooting into the crowd from a short distance away, which resulted in the death of Iyanna Watkins and injuries to the other victims. Investigators believe that Watkins was struck by gunfire intended for someone else.
If anyone has additional information about the shooting, please call the Baltimore County Police Department at 410-307-2020.