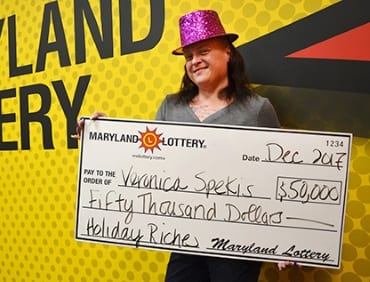 Last year ended on a $50,000 high note for Veronica Spekis of Baltimore, who saw her year-end "tip" from a customer turn into a top-prize win in the Maryland Lottery's Holiday Riches scratch-off game.
The 41-year-old, who is nicknamed "Ronnie," endured an emotional roller-coaster of a year marked by her engagement and the deaths of two family members.
She works as a store clerk at the Soda Pop Shop on Northwind Road in Parkville/Carney (21234), a Maryland Lottery retailer.
One day, Ronnie received a holiday "tip" from one of her regular customers that put one of the Lottery's lucky Holiday Riches scratch-offs in her hands.
Instead of giving her an end-of-year tip involving money, "he asked me to pick any two scratch-offs," she said. Ronnie chose two of the $5 Holiday Riches instant tickets for her "tip" and stowed them until later that afternoon. While on a work break, the clerk scratched off both games and happily discovered she won the game's $50,000 top prize.
Ronnie recalls shouting with excitement and said she shared her great news with a co-worker and the store owner. The lucky winner plans to use the funds in 2018 to fulfill her dream of becoming a homeowner.
The $5 Holiday Riches scratch-off launched in October and features prizes ranging from $5 to $50,000. One unclaimed $50,000 top prize remains along with thousands of others.
The Soda Pop Shop also benefits from her win. For selling the top-prize scratch-off in the game, the store located at 3003 Northwind Road in Parkville/Carney earned a $500 bonus from the Maryland Lottery.