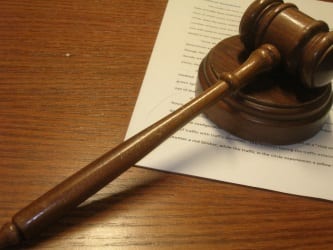 Sergeant Wayne Earl Jenkins, 37, of Middle River, pleaded guilty this week to one count of racketeering conspiracy, one count of racketeering, two counts of robbery, one count of destruction, alteration, or falsification of records in a federal investigation, and four counts of deprivation of rights under color of law.
Jenkins joined the Baltimore Police Department (BPD) on February 20, 2003 and was promoted to Sergeant on November 20, 2013. On June 13, 2016, Jenkins became the Officer in Charge of the Gun Trace Task Force (GTTF,) a specialized unit within the Operational Investigation Division of the BPD.
According to the plea agreement, Jenkins schemed to steal money, property, and narcotics by detaining victims, entering residences, conducting traffic stops, and swearing out false search warrant affidavits. In addition, Jenkins prepared and submitted false official incident and arrest reports, reports of property seized, and charging documents. The false reports concealed the fact that Jenkins and his co-conspirators had stolen money, property, and narcotics from individuals.
According to his plea agreement, Jenkins admitted that he participated in seven separate robberies between May 2011 and August 2016. Jenkins also stole dirt bikes from individuals who were riding them illegally on city streets and then sold them through an associate.
In addition to the robberies, Jenkins also admitted to stealing 4-5 boxes, containing approximately 12 pounds, of high-grade marijuana that had been intercepted by law enforcement from the U.S. mail, as well as prescription medicines that he had stolen from someone looting a pharmacy during the April 2015 riots.
Jenkins admitted he gave another party the drugs he stole from detainees and arrestees, including cocaine, marijuana and heroin. That individual was able to sell the drugs and shared the proceeds with Jenkins. In total, Jenkins was paid $200,000 to $250,000 in drug proceeds.
In an effort to conceal his true identity, Jenkins told detainees that he was a federal task force officer, which he was not, and told his co-defendants to identify him as the U.S. Attorney.
While other parties were detained in connection with these crimes, Jenkins directed the defendants to "keep their mouths shut" and to "stick to the story" in an effort to obstruct justice.
Jenkins has also pleaded guilty to planting evidence for Detective Sean Suiter, who was recently killed in the line of duty, to find.
According to the plea agreement, Jenkins admitted that he routinely submitted false and fraudulent individual overtime reports, thereby defrauding the Baltimore Police Department and the citizens of the State of Maryland. On these reports, Jenkins falsely certified that he worked his entire regularly assigned shifts, when he did not, and that he worked additional hours for which he received overtime pay, when he had not worked all and in some cases any of those overtime hours. Jenkins also admitted that he submitted false and fraudulent overtime reports on behalf of his co-defendants.
The plea agreement provides for a minimum sentence of 20 years imprisonment and a maximum sentence of 30 years imprisonment.