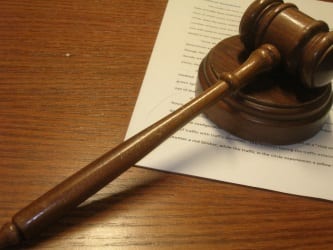 A federal jury has convicted five men on conspiracy to distribute and possession with intent to distribute heroin and cocaine relating to a drug trafficking organization in northern Baltimore.
The five individuals have been identified as:
Antonio Shropshire, 34, of Baltimore
Omari Thomas, 25, of Middle River
Antoine Washington, 27, of Baltimore
Alexander Campbell, 29, of Baltimore
Glen Kyle Wells, 31, of Baltimore
Washington was additionally convicted of distribution of heroin resulting in death.
According to evidence at presented at trial, from 2010 until the dates of their arrests, Shropshire and his co-conspirators distributed multiple kilograms of heroin to customers throughout the Baltimore area.
Members of the group, known to law enforcement as the Shropshire Drug Trafficking Organization (DTO), distributed narcotics in northern Baltimore, primarily near the Alameda Shopping Center. The Shropshire DTO distribution of heroin caused overdoses, including fatal overdoses.
Shropshire used residences in Baltimore to process, cut, repackage, and prepare heroin for distribution to customers, routinely carried firearms in furtherance of the conspiracy and conducted counter-surveillance of law enforcement in an attempt to prevent law enforcement from detecting the illegal activities carried out by the Shropshire DTO.
In order to shield himself from law enforcement, Shropshire used different street dealers to distribute his heroin. One of those street dealers was Thomas, whom Shropshire instructed about the quality and price of heroin that Thomas should sell for Shropshire. Shropshire also arranged for the sale of heroin with customers, but had street dealers distribute the heroin to the customers so Shropshire could avoid law enforcement surveillance.
Fourteen heroin customers testified at trial, many of whom became addicted to heroin after having been prescribed or taken prescription opioids, including a customer who suffered from multiple sclerosis, a customer who had injured herself in a high school gymnastics accident, and a customer who was prescribed opioid painkillers after surgery. Together, these customers purchased more than 17 kilograms of heroin from the defendants over the course of the seven-year conspiracy.
Co-defendant Momodu Bondeva Kenton Gondo, a former member of the Baltimore Police Gun Trace Task Force (GTTF), provided sensitive law enforcement information to Shropshire and his co-conspirators in order to help the DTO. According to his plea agreement, Gondo admitted to providing protection, information and tips to Shropshire about how to avoid being arrested. On March 31, 2016, Gondo alerted Shropshire that the Drug Enforcement Administration had installed a GPS tracking device on his vehicle. Shropshire, under Gondo's instruction, then removed the GPS device and placed it on another vehicle.
At one point, Washington proposed robbing and killing a rival drug dealer to Wells. Wells agreed and recruited Gondo, who in turn recruited another former GTTF member, Jemell Rayam, who has pleaded guilty to racketeering in a separate case to place a GPS tracking device on the rival drug dealer's car and rob him when he was away from his apartment. On the day of the home invasion, Wells and Rayam broke into the apartment, and Rayam, upon discovering that the drug dealer's girlfriend was asleep in bed, threatened to kill her if she did not tell him where her boyfriend kept his money. Wells and Rayam ultimately stole 800 grams of heroin, which Wells sold, sharing the proceeds with Washington, Gondo and Rayam, $12,000, which they shared, a gun, which former GTTF members Gondo and Rayam gave to Wells, a known drug dealer, and a Rolex watch and other jewelry.
Shropshire, Washington, and Campbell each face a mandatory minimum of 10 years and up to life in prison for conspiracy to distribute at least one kilogram of heroin. Gondo, Wells, and Thomas each face a mandatory five years and up to 40 years in prison for conspiracy to distribute at least 100 grams of heroin. Washington faces a mandatory minimum sentence of 20 years in prison for distribution of heroin resulting in death. Shropshire, Gondo, and Campbell also face a maximum penalty of 20 years in prison for possession with intent to distribute heroin and cocaine.
Sentencing is set for Shropshire on February 16, 2018, at 11 a.m., Washington on February 9, 2018, at 2 p.m., Campbell on February 16, 2018, at 9:30 a.m., Thomas, on February 15, 2018, at 9:15 am, and Wells on February 22, 2018, at 9:15 a.m. in U.S. District Court in Baltimore. All defendants were detained pending sentencing.