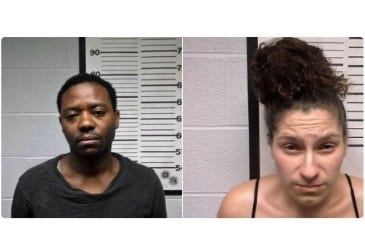 Two murder suspects from North Carolina are now in police custody.
On Thursday, the Maryland Transportation Authority (MDTA) Police arrested two individuals from North Carolina who were wanted for murder and who had two firearms in their possession.
An MDTA Police officer stopped 23-year-old Rose Angelica Shultz on northbound Interstate 95 at Exit 64 in Rosedale for an equipment violation on a 2011 Dodge Avenger.
During the traffic stop, the officers were advised that the vehicle stopped was connected to a homicide in Catawba, NC. The passenger in the vehicle, 32-year-old James Vincent Rinkines, was wanted for murder by the Catawba County Sheriff's Office.
Rinkines and Schultz were taken into custody without incident.
During a search of the vehicle, MDTA Police recovered one loaded handgun, one loaded assault rifle, and three loaded handgun magazines.
The MDTA Police charged both Rinkines and Schultz with possession of a handgun in vehicle, possession of handgun on person, possession of an assault weapon, and illegally possessing a firearm.
After Schultz's arrest, the Catawba County Sheriff's Office issued a warrant for accessory after-the-fact and for helping Rinkines escape arrest.
After processing, Rinkines and Schultz were transported to the Baltimore County Court Commissioner.
Both are being held without bail at the Baltimore County Detention Center.