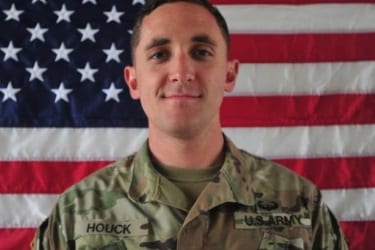 UPDATE: Sgt. Houck's name has been added to the Baltimore County war memorial in Towson.
Original story below…
——
The U.S. Army has announced that a Perry Hall man was killed in Afghanistan.
The Department of Defense announced on Monday that Sgt. Eric M. Houck, 25, of Perry Hall, died while supporting Operation Freedom's Sentinel. Two other soldiers were also killed.
The men died on Saturday, June 10, in Peka Valley, Nangarhar Province, Afghanistan, of gunshot wounds sustained in Peka Valley, Nangarhar Province, Afghanistan. The incident is under investigation.  The Taliban has claimed responsibility for the attack.
The Soldiers were assigned to Headquarters and Headquarters Battery, 3rd Battalion, 320th Field Artillery Regiment, 101st Airborne Division (Air Assault) and Company D, 1st Battalion, 187th Infantry Regiment, 3rd Brigade Combat Team, 101st Airborne Division (Air Assault), Fort Campbell, KY.
The other two men killed were listed as Sgt. William M. Bays, 29 of Barstow, California; and Corporal Dillon C. Baldridge, 22 of Youngsville, North Carolina.
Councilman David Marks and the Perry Hall Improvement Association have scheduled a brief memorial service to be held on Thursday, June 15th. A wreath will be laid at the Perry Hall Veterans Memorial at 7:30 a.m. on Thursday morning, with a short prayer to be offered by Pastor John Mohan from St. Michael Lutheran Church. The Veterans Memorial is located at Perry Hall Elementary School. All are welcome to attend.
Sgt. Houck graduated from Perry Hall High School and leaves behind a wife, Samantha, a 5-year-old and a 3-year-0ld.  A  GoFundMe page has been established to help the family.
Councilman Marks also announced on Monday that Sgt. Houck's name would be the first new name added to the Towson war memorial since it was dedicated back in November.