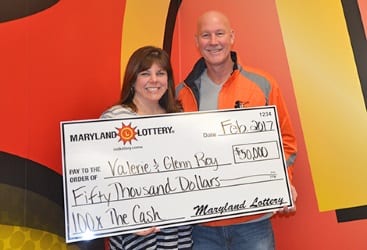 A Wednesday night pizza run turned out to be a real moneymaker after a Rosedale couple added a Maryland Lottery scratch-off for dessert. Glenn and Valerie Rey found their $50,000 prize hiding in a "100x The Cash" scratch-off.
Glenn said he doesn't often play Lottery games, but the 58-year-old will purchase a scratch-off occasionally. When he called his wife about picking up a pizza, Glenn also got the green light to pick up a scratch-off.
When he returned home, the couple dug into the pizza and began scratching off the $20 instant ticket from Triple A Tobacco in Nottingham.
Valerie told Lottery officials she likes to extend the suspense of playing scratch-offs. She reveals the winning numbers first and then searches for matching numbers. The 47-year-old waits to uncover prizes as a last step.
As numbers began to match on their scratch-off, the couple's excitement grew. "Every prize we scratched – it just got better and better," said Valerie. They usually get excited if they win $20. When they discovered they had won $50,000, the pair said they couldn't eat another bite of their pizza.
They plan to save the prize. The couple will celebrate their 15th anniversary in May with a cruise and may use the winnings for additional travel expenses.