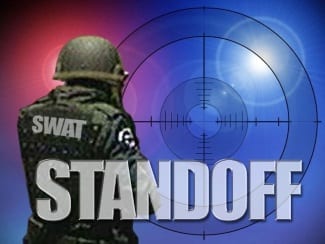 UPDATE: 11:08 a.m. – The fire is now contained.
UPDATE: 11:05 a.m. – Police now say that the suicidal subject is in custody. Firefighters continue to work to extinguish the blaze. Motorists should avoid the Silver Spring Road/Cottington Road area.
UPDATE: 11:03 a.m. – Perry Hall High School is now on lockdown as a precaution.
UPDATE: 11:00 a.m. – The fire has now gone to a second alarm.
Original story below…
——
Police are involved in a standoff in Perry Hall at this hour.
At just before 10:30 a.m. on Friday, officers responded to the area of Bartley Court for a report of a disturbance.
The home is now on fire but the subject is still inside, according to Baltimore County Breaking News.
Fire officials do not know how many occupants are in the dwelling at this time.
Smoke is said to be showing from the home's second floor.
Motorists should avoid the area.
Roads are closed and blocked.