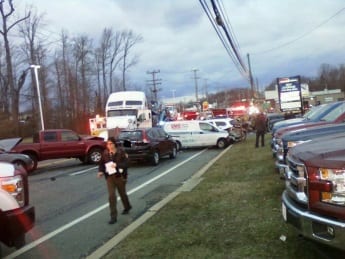 Motorists heading north along Belair Road on Friday evening should expect delays.
Authorities say Route 1 is currently shut down in both directions due to a major crash in the Fallston area.
The accident occurred at about 5 p.m. in the 1700 block of Belair Road near Plaza Ford.
As many as 14 vehicles were involved in the crash, including a car carrier tractor trailer.
Six ambulances were called to the scene and at least 11 people sustained injuries.
Motorists should avoid the area.