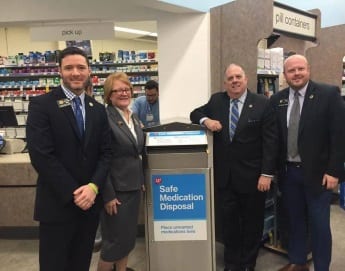 Governor Larry Hogan and other elected officials visited the Walgreens on Harford Road in Parkville on Tuesday to help the chain launch its Safe Medication Disposal Kiosk initiative.
A total of seven Walgreens locations throughout the state of Maryland now give individuals the ability to safely and conveniently dispose of their unwanted, unused, or expired medications at no cost using these kiosks.
In the first national effort of its kind by a retailer, Walgreens has installed safe medication disposal kiosks at 288 pharmacies across 21 states and Washington D.C.
"Walgreens has taken an important first step to curb the misuse of medications throughout the country and continues to make progress in offering easy and convenient medication disposal," said Richard Ashworth, Walgreens president of pharmacy and retail operations. "Everyone has a role to play in minimizing prescription drug abuse, and we are committed to being part of a comprehensive solution to reverse this epidemic."
The kiosks at Walgreens pharmacies are available during regular pharmacy hours (24 hours a day at most kiosk locations) and offer one of the best ways to ensure medications are not accidentally used or intentionally misused by someone else.
Delegate Christian Miele and other elected officials were also on hand Thursday in Carney.
Governor Hogan even stuck around and did a little holiday shopping.