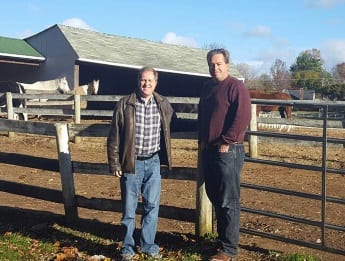 On Monday, the Baltimore County Council passed legislation sponsored by Councilman David Marks that will preserve Hawks Hollow Farm, a longtime horse stable in Kingsville.
For 21 years, Hawks Hollow Farm has given families the opportunity to ride horses and enjoy the countryside. Earlier this year, the farm faced thousands of dollars in legal fees when a Baltimore County inspector claimed the farm was out of zoning compliance.
Under the legislation sponsored by Councilman Marks, long-standing stables that have been in operation for at least 15 years are considered in zoning compliance in the RC-5 zoning area.
"We should not force family farms and stables to spend thousands of dollars seeking a special exception if they have been good neighbors for the past 15 years," Councilman Marks commented. "We should be doing all we can to help these rural businesses, which help make places like Kingsville special in Baltimore County."
"Hawks Hollow Farm thanks Councilman Marks for his work in preserving our family business," added Robert Weyforth, owner of the farm. "Councilman Marks worked with us and saved us thousands of dollars that we can now use to improve our stables, which are used by many visitors every year."
Hawks Hollow Farm is located at 7615 Bradshaw Road.