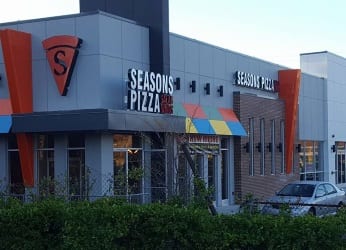 Baltimore County Councilman David Marks joined Delegate Christian Miele and Perry Hall/White Marsh Business Association president Lynn Richardson at a ribbon-cutting ceremony for a redeveloped part of the Belair Road corridor in Perry Hall on Friday morning.
The ribbon-cutting ceremony was held at 9 a.m. at 8833 Belair Road.
The Shoppes at Perry Hall, developed by John Mazarakis, include a retail center anchored by Seasons Pizza, parking, new landscaping, and a sign that welcomes drivers to Downtown Perry Hall. The project is located at 8833 Belair Road.
"Our shopping center is 50 percent leased, and it brings a blend of uses to this part of Perry Hall," Mazarakis commented. "I would like to acknowledge the work of King Construction as the prime contractor on this project, and the support of Councilman Marks who helped us navigate some of the permitting issues."
Councilman Marks has made the revitalization of older areas a top priority, and in 2011 created the Perry Hall commercial revitalization to improve the area centered at Belair, Ebenezer, and Joppa Roads.
"This project has taken more than three years from permitting through construction, but I am happy this derelict area has been greatly improved and beautified."