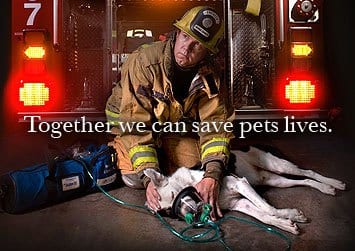 The Baltimore County Fire Service is taking steps to assist animals that suffer smoke inhalation as a result of fires, thanks to a donation from a local company.
Invisible Fence Brand of Baltimore will donate 58 pet oxygen kits to county fire stations during a press briefing scheduled for Wednesday, September 21, 1 p.m., at Chestnut Ridge Volunteer Fire Company in Owings Mills.
While the primary goal of firefighters is saving human lives, Baltimore County's fire service is also committed to helping animals whenever possible.
"For many pet owners, cats, dogs and other animals are members of the family," said Fire Chief John Hohman. "We know how important it is to rescue them when we can."
Dogs, cats, horses, deer, birds and rabbits are all pets that have been saved by Baltimore County fire crews.
The pet-friendly oxygen mask kits are donated as part of Invisible Fence Brand of Baltimore's "Project Breathe" initiative. This initiative supplies pet oxygen mask kits to fire stations so firefighters can save canine and feline victims of fire.
Invisible Fence will donate one kit for every career and volunteer station in Baltimore County. Each kit contains small, medium and large masks. They are specially designed to cover the pet's muzzle and will deliver needed oxygen in a fire emergency. The kits cost nearly $3,500.
"Being able to help our local firefighters save pets' lives is very important to us," said Jeff Little, owner of Invisible Fence Brand of Baltimore.
Each year, an estimated 500,000 pets nationwide are injured by fire. Some 40,000 pets die from fire and smoke inhalation.
[Source: Baltimore County Government]