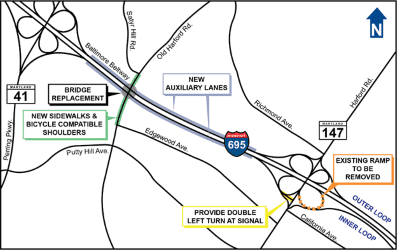 The $32 million I-695 widening project between Perring Parkway and Harford Road in Parkville has reached a major milestone, according to the State Highway Administration.
As of this past Thursday night, September 1, at 10 p.m., the Maryland Department of Transportation's SHA will close the "cloverleaf" loop ramp from eastbound I-695 (inner loop) to northbound Harford Road; then move traffic onto a widened ramp from I-695 that will provide access to both directions of Harford Road. SHA's contractor installed a signal on Harford Road to control exiting northbound traffic. A new interchange traffic pattern is now in place.
"The new traffic pattern will improve safety by eliminating a short, congested traffic weave/merge area," said Acting District Engineer Wendy Wolcott. "SHA encourages motorists traveling between Parkville and Carney to stay alert for changing traffic conditions as drivers adjust to the new interchange ramp location and the new traffic signal on Harford Road."
The cloverleaf loop ramp, built as part of the original Baltimore Beltway construction in the early 1960's, will be permanently closed and removed.
After September 1, all motorists traveling from eastbound I-695 to southbound and northbound Harford Road will use the same exit ramp.