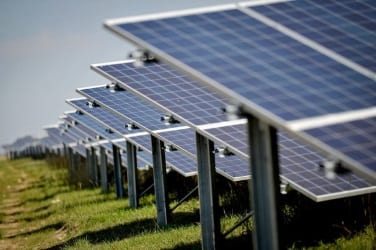 Baltimore County officials revealed on Monday a plan to install solar panels in Kingsville and in three other locations in an effort to improve the county's energy efficiency. The project will also help the county utilize more clean energy.
Baltimore County Executive Kevin Kamenetz announced that county government will significantly reduce its electricity consumption, while greatly increasing its use of renewable energy sources. He also announced a partnership with SolarCity to host solar panels arrays at four County sites.
"In Baltimore County, we have been strong stewards of the environment for decades and today we are making a major commitment to reducing our energy consumption and increasing our support of renewable energy sources," said Kamenetz. "We are excited about this partnership with SolarCity and look forward to saving money on our electricity costs for County government operations."
Kamenetz issues Executive Orders, announces State energy grant
Kamenetz announced two clean energy policies, established today by Executive Orders, including:
Baltimore County will establish a goal to reduce per-square-foot electricity consumption by 15% within five years in County government buildings, pumping stations and streetlights, using fiscal year 2015 as a baseline. Under this Energy Efficiency Policy, the County will also develop an Energy Reduction Plan outlining how it will reach this electricity consumption reduction goal.
Baltimore County will also establish a goal to utilize renewable energy sources to generate or displace at least 20% of the county's electric demand by 2022. As part of this Renewable Energy Policy, the county will also develop a Renewable Energy Action Plan.
Kamenetz also announced that Baltimore County was awarded a $390,000 grant from the Maryland Energy Administration to participate in the Maryland Smart Energy Communities (MSEC) program. The MSEC program was launched by the Maryland Energy Administration in 2013 to encourage local governments to adopt smart energy policies and goals, leading to energy savings and renewable energy projects.
Currently, 56 Maryland communities, including seven counties plus Baltimore City, are designated as Maryland Smart Energy Communities. Grant funding for projects will be utilized as follows:
$310,000 for energy efficiency upgrades in County-owned facilities, and
 $80,000 for renewable energy projects.
These grant-funded projects will help the county achieve its goals outlined in the Energy Efficiency and Renewable Energy policies.
"We applaud County Executive Kamenetz for taking a leadership role in combatting climate change," said Karla Raettig, Executive Director of the Maryland League of Conservation Voters. "We hope that more of Maryland's jurisdictions will make commitments like this to increase their renewable energy portfolios and reduce greenhouse gas emissions."
"It's great to see County Executive Kamenetz take a leadership role in developing clean, renewable energy," said Josh Tulkin, Director of the Maryland Sierra Club. "Clean energy has generated thousands of new jobs in Maryland while cleaning our air and protecting our climate. Today, he is proving that solar energy is both good for the environment and fiscally responsible."
Solar projects expected to save $20 million in electric costs over 25 years, avoiding carbon emissions
Kamenetz announced that Baltimore County has signed power purchase agreements with SolarCity, the nation's largest solar power provider, to host ground-mounted solar power systems at four County-owned properties and to purchase the electricity from these panels at greatly reduced rates. The county projects it could save more than $450,000 on solar-generated energy costs compared to current utility rates in the first year alone and could save more than $20 million over the next 25 years, assuming a modest increase in utility electricity prices over that same period. In the first year of operation, the solar panels are expected to provide greater than 20% of the county's estimated electricity usage for fiscal year 2017, exceeding the 20% goal outlined in the Renewable Energy Policy.
The solar power systems, which will be financed, installed and maintained by SolarCity at no upfront cost to the County, will be located at:
the closed Hernwood landfill site (Woodstock)
the closed Parkton landfill site (Parkton)
a portion of Mount Vista Park (Kingsville)
a portion of Southwest Area Regional Park (Lansdowne)
The systems at three of the four sites are expected to be completed by the fall of 2017, and the last in the spring of 2018.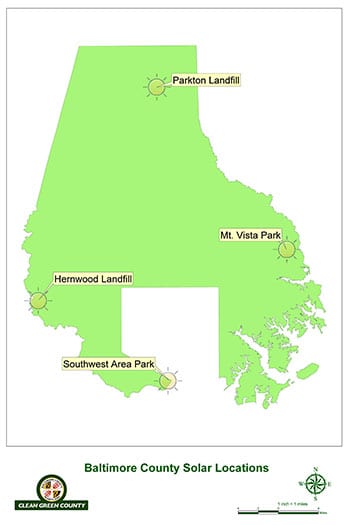 21 megawatts of solar power could offset more than 20% of county government's electricity needs
"We are honored to work with Baltimore County to not only help them meet their goals of supporting the development of renewable energy, but also save them money with affordable solar-generated power," said Brent Eskay, Senior Project Development Manager for SolarCity. "We hope other counties and towns across the nation take note of the tremendous steps Baltimore County has taken to support renewable energy."
The solar systems, which together total 21 megawatts, will produce local clean energy, helping to reduce greenhouse gas emissions, support green energy jobs and reduce and air pollution. The systems are expected to avoid the emission of more than 482,000 metric tons of CO2 over the 25-year project lifespan, which is equivalent to removing about 100,000 cars from U.S. roads for one year, or equivalent to the amount of CO2 sequestered by more than 12 million trees.
"This is a smart, positive step that reduces the County's energy costs while helping to promote the reduction of harmful greenhouse gasses," said Baltimore County Council Chair Vicki Almond.
In order to execute this contract, Baltimore County piggybacked off of an existing Montgomery County contract with SolarCity.
[Source: Baltimore County Government]