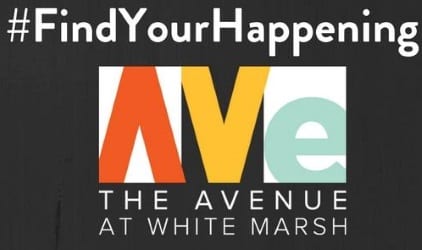 The Avenue at White Marsh has just launched a new contest, and participants could win up to $250.
To be eligible for the contest, participants should first follow The Avenue on Instagram (@TheAvenueAtWhiteMarsh).
The rest is easy:
"We'd especially love to see what's happening while you're out having fun at THE AVENUE.

When you do share your photo, you'll be automatically entered to win a $250 gift card to a restaurant or store of your choice at THE AVENUE at White Marsh.

We look forward to seeing your pics—and we promise to like your post!
Entering our #FindYourHappening Sweepstakes is simple:

1. Follow THE AVENUE at White Marsh on Instagram
2. Take a photo of your favorite moment at THE AVENUE.
3. Upload the image on Instagram and tag it @theavenueatwhitemarsh
4. Caption your photo using the hashtag #FindYourHappening

The sweepstakes period runs from July 15 through December 31, 2016."
One winner will be selected at random each month, announced on social media, and notified via Instagram message.
There's no cost to enter.
For more information, visit www.TheAvenueAtWhiteMarsh.com.